Porn star curtains (Gone)
September 14, 2011
Morning peeks in through dazzling, porn star curtains and nudges me awake.

It's not time yet.

In fact, it's still far too early to be up, my internal clock says begrudgingly. It's the nightingale, and not the lark. The corners of my mouth edge upwards. It's an appropriate metaphor. My vertebras extend satisfactorily, then shift back into place as I nestle deeper into the sheets. I can feel the shallow rise and fall of his chest against my freshly cracked back.

I flip my heavy morning head directly into the pillow, which will probably always smell like him, and then, after inhaling deeply, to the other side of the bed. I watch his eyelashes flutter in keeping with his breath for an enduring moment.

My breathing gets shallow. I'm not totally out of the water until I'm at home and telling my parents how nice it was to spend the night at Liz's house.

It's probably time.

His arm rises up from the sheets like a zombie from a freshly tilled grave, descends down on me, and wraps around my waist, scooting me closer to him. I can't exactly exhale now. The sun bounces off of the sparkly gold curtains and bedazzles his face.

"Good morning," I whisper.


"Mhasgiuaogahfask," he whispers back.


"I think that I have to go soon."

"I'm working on a poem called 'I Had It Once, But Now It's Gone'," my Writing Process teacher informs me. He squats down by my desk. The wild expressiveness of his facial expressions turns everything he says in to an onomatopoeia.

"But Now It's Gone" .
The "g" explodes in the back of his throat.
The "o" rings for one or two extra seconds.
He hangs on to the "n", slowly closing the door on the "o".

"Gone".

It can't just be me, can it?

"At mah age," he begins with a sensitive balance of emotional investment and complete disassociation, "there are alotta thangs that aren't like they were in my youth. Girls don't look at me like they used to. Love don't come as easily." He plays with the word "easily" for a little bit of time. It slides out from his lips easily.

He has to be doing this on purpose.

His eyebrows lower darkly, angry white caterpillars. "And it jus makes me burn when I see this apathy. I see these young people walkin' around and I just want to walk uptuh up and tell them that I had that, and it's gone nawh. I jus wanna shake 'em, ya know? If you have something go for it. If you think you really have something, don't write it off as a fling. Take it! Oh, it makes me jus burn."

I mumble something about how apathy is the scourge of my generation and hope that he goes away.

Now it's the Friday before the Saturday that he leaves. He drops me off at my show, but he doesn't stay to see it.

"Will I see you again tonight?" he asks as he gets into his car.

We've already talked about it. "Of course," I say. "See you soon."

He swallows me in a giant hug and I want to cry, because this is the last time that he's dropping me off at the park.

Greif and acceptance coexist in strange ebb and flow.
Ten minutes later, as I'm setting up sound equipment, I'm okay.

He comes just like he says he would at 10:30 PM in the nice blue Mazda that belongs to his grandmother, Rosella.

"Owlie," says Rosella, "here's a fruit cup. And there's rolls right there in the middle of the table, if you'd like a roll, because I know that you don't eat meat."
The brightly colored cubes of fruit are suspended in a strangely viscous liquid. I take a roll.

"Thank you." I say. He's grinning at me from across the table. Color rises in my cheeks.

His little sister Leah, lounges in front of the television watching BET on silent.
She occasionally looks over at us with raised eyebrows.

Now he's an ambiguous shape in a hoodie, standing across the parking lot from me. The park had recently emptied. The air smells like cut grass and kettle corn. The gourmet Mexican truck rolls away, as the crew continues breaking down the giant light trees and sweeping dust and plastic flowers off of the stage. My stomach hurts a little.

"I'm so happy to see you," he says formally. He strides over to me, smiles, and kisses me on the forehead.
Four or five industrial sprinklers click-click-hisssssss to a start on in the field that lies adjacent to the Parthenon. Sheets of grey-white water move from right to left like a fan. I've called my mom to tell her I'm spending the night with my friend Taylor.

"Want to go?" I ask, tightening my grip on his fingers, nodding at the sprinklers.
"Sure."

We run and fall and laugh through the water, and I break one of my flip-flops and wonder why we didn't do things like this more often. I wonder if other couples cry as much as we do. I wonder why he has to say that he's happy to see me. We stop in a busy café that's hopen 24 hours a day and write to each other on a word processor document while I eat my veggie burger.

Then we get in the car and drive back to his house to spend the night.

A year before, we sat at a picnic bench on the side of the Centennial Park Bandshell, about a hundred feet from then undiscovered industrial sprinklers, on a break from Shakespeare in the Park rehearsal. When we talked, which was not often, I became horribly aware of the every cell in my body. It was fantastic. Like a magnet erased my hard drive.

"It's just so hard because none of my real friends go to my school," I said quietly to my counselor. "Adrianna, Halle, Mac. Or Darian. He's my friend from Shakespeare in the Park." I paused, and felt heat gather in the bottom of my stomach comfortingly.

"If Darian was at FRA it seems like everything would be different."

"It was like everything changed when I met you. If I had been married to someone, I would have divorced them," he told me one night on the phone, months later.

We finally fell asleep in the wee hours of the Saturday that he was leaving for Chicago.
I left Darian's house and I wasn't on time to my morning shift. A not particularly convincing voice instructed me not to cry when I said goodbye to him for the last time. Maybe squeeze out an ethereal little smile, suggested the voice.

Our last kiss was excellent.
"See you later" I whispered.

It was like a body of water I didn't know existed began to rise and swell inside of me. Tears were inescapable.

The car hummed down Highway 100. Farms and Wendy's and trees and fields bathed in sunshine flew by and melted into a shapeless, green-yellow blur. I had cried all the way to the Publix, but I was finally lulled into silence. I flipped the Sweet Cece's store key over and over again in my fingers.

He kissed me on my couch in November. If I had been standing up, I would have fallen down.

I drove him back to his house on that night in November and we stayed in my car for hours and kissed, and cried and I told him I loved him.

He told me he had had never made love before. Making love was different that sex. He had definitely done that before.

He told me to go talk to my counselor. "You're sick, Allie," he said seriously. He punched each word. "An eating disorder is an illness. You can't fight this alone."

I told him we should break up a thousand times.

"Please don't leave me," he cried. "Please, please don't leave me like this."

I never asked Darian not to leave me.






Greif and acceptance exist in a strange ebb and flow.

Memories fan out across the carpet like pictures meant for the pages of a scrap book that I'm not entirely ready to start making yet. The scissors and glue seem too definitive. Too limiting.

I'm not ready to Google "What is a co-dependent relationship?" yet.

I can't yet listen to stories of sun dappled first loves without a desperate rush of vicious comparison, envy, and a deep hurt.

I'm not ready to label anything yet. Not the scrap book. Not even the individual pictures.

I leave them there on my floor and go about my business.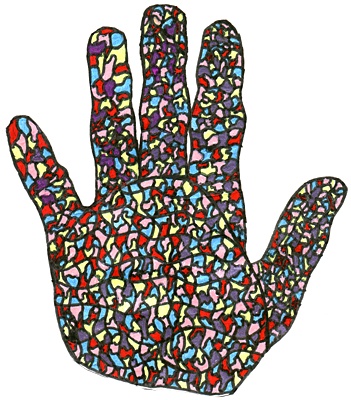 © Jesse V., Sewickey, PA