My Prom 2011
May 25, 2011
It wasn't hard to find the perfect dress. I walked into one of my favorite dress stores, E.B. Pepper in Shadyside, and found it right away. The dress was dark green with burnished gold sequins all over it, and although it was a little pricey, the dress was on sale and fit perfectly, so I decided to buy it.
A few weeks later, I went in search for the perfect earrings to match my dress. I went to another one of my favorite stores and found them right away, also. My mom came home one day with the perfect pair of shoes and a little clutch purse to match my dress. I tried it all on together and knew that the look was perfect, just the way I had imagined it in my mind. I was definitely ready for prom.

As prom came closer and closer, I became more and more nervous. I happened to be one of four freshmen attending to the prom. Luckily for me, all three of these girls are my very close friends. Every single one of us started to regret agreeing to go in the first place. But with our tickets already purchased, it wasn't an option to not go. All too quickly, it was May 14th, prom day.

I woke up at a friend's house on the morning of the 14th; I had an enjoyable evening the night before and was eager for the day ahead of me. My nerves were really started to get to me when I went to the hair salon get my hair and make-up done. I brought a picture with me of a really nice swept-up hairdo, so I could get mine to look exactly like that. I also brought along my own special make-up that I bought especially for prom night with some of my birthday money. When I looked in the mirror and saw that she had done my hair and make-up perfectly I started to feel a little less anxious. At least I didn't have to worry about my appearance; I was very happy with it which made me smile.

There was no time to think about the prom at this point, because we had to race to my friend's house for pictures. That was a good thing because when I arrived, my date was already there and waiting. I raced upstairs, put my perfect sequin dress and shoes on, and went downstairs to the whirlwind of adults telling us where to stand and how to pose for what seemed to be a thousand pictures! At that point I think I was actually starting to relax and enjoy the experience. My date gave me a wrist corsage, I managed to sneak a few hors d'oeuvres, and off we went in our limousine to prom.
My mom told me that once I got into the limo I wouldn't be as nervous or anxious. She was right. It became a group of friends talking and laughing and having fun. Even walking into prom was not that intimidating. I had been to that particular ballroom at the downtown Marriott Hotel many times in the past for my Dad's company Christmas parties, so it was a familiar place for me. I could remember walking up the large staircase to get to the grand ballroom as a little girl. This time however, the ballroom was very crowded and seemed rather small for such a big event. It was nicely decorated with a safari theme, but the food was pretty terrible, so it suddenly became no big deal.
The disc jockey was considered by most to be rather lousy so the pressure to dance a lot wasn't really a factor of my evening. For the most part, we just hung out as a group and danced together, or just watched some of the boys get crazy. My date was one of those wild dancing boys, but it was very funny to watch. When it was time for the slow dances, I either conveniently disappeared to the bathroom or got lost in the crowd. The dances that the whole crowd could do together were the most fun; it even seemed like the floor was bending at one point! The dance floor was really small for such a big crowd, so it soon became extremely hot at prom. After a few more crazy dances it was actually time for us to leave. The time went by so quickly, but I was glad I was able to experience prom as a freshman.


We got back into our limousine and everyone was glad to be on our way to a post prom party at a friend's house. I had thought ahead, and brought a change of clothes in a bag that I put in the trunk of the limo. I was getting anxious to get out of my dress and relax for the post party. It just so happened that the sequins on my dress were starting to scrape the skin under my arms, which was quickly becoming painful.
I was only allowed to stay at the party until midnight, but I didn't mind. Another group of older kids were arriving just as I was leaving, so it was probably a good thing that I had to go. Anyway, my very best friend was waiting up for me at her house to hear all about my night. I went back and told her all about it, and I also informed her that we would be experiencing prom together next year.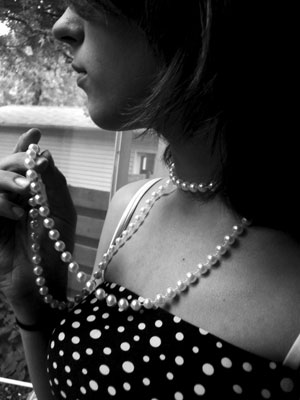 © Elaina V., Canton, OH