Behind the Curtain
January 25, 2011
I stand in the wings.Smoothing out my shirt;awaiting my cue to go onstage.I know where to stand,what to say,and where to exit when I'm thru.As i walk on to perform my monologue I think about the audience. To them,this performance is flawless.But to me,there's still something that needs to be fixed.That's how most people view a typical high school play.They think we get our script,read thru them,go to a few rehearsals,and can put on a perfect show.What they'll never understand is how much hard work,sweat,and tears we put into each performance.
It all begins months before the show. The minuet the director shoves the scripts into our hands and gives us our part;the battles begin.Staying up all night to memorize a certain scene for tomorrow's rehearsal.Trying to balance homework,family,friends,chores,and rehearsals all at once can get overwhelming.There have been many times I've gotten really stressed because I was trying to do all my homework,chores,and memorize my lines.We can only count on support from our cast members to help us get thru the tough times.
Then comes the blocking. We're told by the director where to walk on,stand,and exit onstage.We're expected to write it all down and memorize it along with all of our lines.To the audience,this seems like a lot. But when you've been in as many productions as I have,it's not that bad.
After months of rehearsals comes tech week.The week of the show.Costumes,make-up,hidden scripts,and props crowed backstage.So much to be done in only a few short days.But we make it happen;someway,somehow it all comes together by the final rehearsal.
My costume is on,I've got my blocking and lines down,and I'm ready to take the stage and please the crowd.But I still wonder about the audience.Will they like our show?Will they ever understand us?Will they get our dedication to theatre?Will they ever understand what goes on before the show?Hopefully,they're smart enough to look behind the curtain.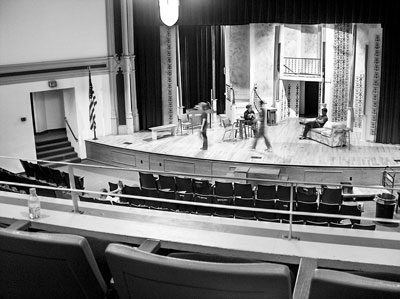 © Sean C., Princeton, IL