Drenched To Help
January 15, 2011
I always hear the phrase "rain or shine". And usually, the phrase is longer like, "Club meeting, rain or shine". Then when the day comes, and it's raining, not shining, it becomes such a chore to go to the mandatory meet. We often think, "Why did it have to rain? This day is such a drag." But that's not what I felt one Saturday, when I became drenched, not only with rain, but with joy to help.

I signed up to volunteer at a Juvenile Diabetes Research Foundation Walk a week before Halloween. I thought, why not? I'm free Saturday, so might as well do something.

But it was not just a little event that became a hidden detail of my day. It made my day. In so many ways, it did. I went there, expecting to pull chairs, arrange water bottles, and after an hour, hear a thank you, smile back and leave. My expectations weren't misleading, but between each of those, came a jovial feeling, a few smiles, laughs, and adrenaline rushes.

They started out giving me a name tag and a t-shirt. Bright orange with black letters. Halloween colors and easy to spot. I assembled sponsor signs which were put along the path people would take while walking and jogging for the event. After those, I walked on over to another booth thinking how nice it feels to help.

At the second booth, I had to pass out appropriate sized t-shirts to the walkers. It started drizzling, but I was under the tent, to keep the shirts dry, so it was alright. I talked to the volunteers with me at the t-shirt booth, coming to know that surprisingly, they were in college. They were very taken aback to find that someone as young as me, a freshman in high school, came to spend a weekend's time in a way other than blaring music or going shopping. Not only that, but in such a cold and wet season, I was out, volunteering…for fun, not even for credits.

The walk didn't start until about an hour after setting up the t-shirt booth, so I made my way over to the Pete's Coffee booth. The coffee created a feeling of temptation, seeing the steam shoot up into the sky, meeting the clouds. The life came back to everyone's pale faces, reviving their hands, too, from the biting cold. However, I resisted, sticking to the biscottis, because I felt I was too young for coffee. Anyways, I did not know the difference between any of the knobs – decaf, 2%, house blend.

My arms were kept warm by my constant moving. The usual process was "What size are you? Oh, we don't have any more mediums. Large? Okay." Turn around grab a large shirt and fold it in their hands. Then I smile and say, "Have Fun!" I kept that up for about an hour, until two girls from my school came over to me insisting I come with them for a picture. So I shiver on till we reach the overhead under which we take a picture. We hang out for a bit, watching the kids and parents walk and jog for the good cause, juvenile diabetes.

One of the main people that was really affiliated with the event came over to us, seeing we were volunteers by our bright orange shirts, and asked for assistance in the photo shoots. So I agreed to help and followed, finding myself positioned on the middle of a grassy field that become muddy from the rain. My job was to lead the walkers and joggers to the photo tent behind me when they came close to where I was, the finish line. And that I had to do for the fast kids that raced their friends, whether or not they had diabetes, as well as the elders, who took their time walking.

Of course, the biting cold near the Pete's Coffee booth and the rain pelleting down on the t-shirts at the t-shirt booth could be felt, but that was nothing compared to what I was experiencing here, on a grassy field meant to play football on during the hot month of august. My Converses, being my favorite pair of sneakers, were having their first ride in a water park. My socks got the imprint of the design from the interior of my shoe. The mud squelched below them, and worse was when one of the laces was being naughty and needed to get back with its other lace friend on top of the shoe. My hair, recently washed, was being sluiced once more, however this time, with the absence of the mango citrus shampoo. My hood didn't help. It just added weight by becoming a bucket.

So many reasons for me to hate my experience, but I didn't. Normally, I would. I would end up asking myself why in the world I didn't check the weather forecast earlier or why I couldn't spend some time indoors in the library instead. But I didn't get that feeling this time. The kids passed me, smiles on their faces, seeming to take no notice of the rain and bitter cold. The friends and family of each diabetic child were so supportive. They spent time making synchronized t-shirts with the kid's picture on it, and wrote something like "Angel sent by God" or "Our Best Friend" or another positive line. And with everyone smiling for the camera, I felt it was an honor volunteering for something like this. Because Juvenile Diabetes is definitely something worth researching for, and I found a way to contribute. Whatever it takes, rain or shine. Shine would be nice, but if it's rain, I'm still here, though drenched, drenched with help.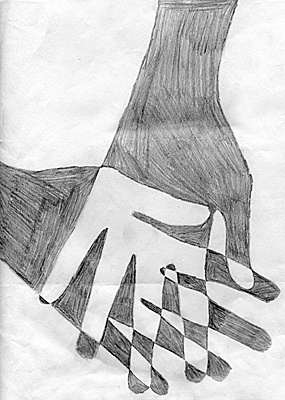 © Warlito B., Tamuning, GU