Mirrors
October 18, 2010
Usually when I take a look at myself in mirrors, I see a tomboy that looks too young and too short for her age. I see chubby cheeks and unattractive shadows on her face that are cast by the glasses that make her eyes disappear under them. I see a goofy smile and crooked teeth. I see someone undeserving of compliments and devoid of all knowledge on how to appear the least bit presentable.

But there is one, single mirror in the house where I don't see any of this. Instead, I see a young girl with choppy auburn hair that frames her face just right. I see the slightest hint of her Asian blood by her eyes but the color of them was passed down to her by her Sicilian family, definitely. Her glasses are suddenly a little mysterious. And as I'm looking at this girl that cannot be me, I see her red lips curve into a smile.

Call it my bad vision, or the occassional compliment that gets to my head. Maybe it's the bad lighting in that particular room. Yes, it's probably the bad lighting.

I see it as a sign that even I can be a little beautiful, despite all my faults. Everyone truly is beautiful.

Whatever it is, I have decided that I can either choose to believe this mirror, or the one in the bathroom that tells me that I'm not good enough.

I choose this one.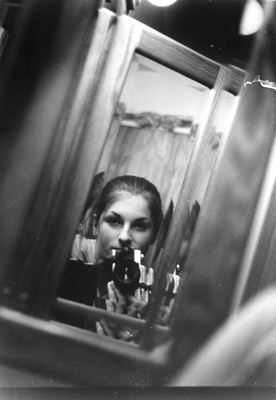 © Lindsey D.,Marblehead, MA