Purpose with Passion
October 13, 2010
"Okay, go ahead," the judge says, smiling warmly. I gently grip the flute in my hands, the cold metal keys leaving slight impressions in my palms. Lifting the instrument to my lips, I poise my curved fingers over the correct positions. The heater switches on, filling the silence with a warming hum. Anxiety lies heavy on my chest and radiates through my shaking arms. Waiting competitors sit in the front row of desks, and smirks curve their mouths. My heart beats nervously, pulsating through my body. Did I practice enough or am I just going to embarrass myself? The accompanist nods and we begin. I take a deep wobbling breath. At first, the sound is weak and shaking, unease transferring to my breaths. But then something changes. The judge, the grinning competitors, even the noisy heater fade away and I am alone with my music. Like water in the sea, the music rises and falls, softens and crashes, and I am carried on these waves. The deep resonant tones of the piano and the light melody of my flute blend into one sound that reverberates through the small classroom. Through my music, I am myself, isolated from plaguing worries. Eyes steadily scanning the score, I reach the crescendo of the piece, and fall back to reality. The judge is busily writing on a scoring sheet. I take a small joy in the knowledge that the front row is no longer smirking and greater joy when I receive a little white card with my name and a little 'G' on it.

Before my involvement in music, I never understood why people are enraptured by collected tones, notes, and harmonies. How could melodies create such passion in listeners? Watching orchestras and concerts, I was deaf to the trance planted by producing music, even though the evidence was obvious in the strength and complete immersion of the musicians. My ignorance dissolved once I joined my school band when I was eleven. I chose to play the flute for no particular reason; the case was small and could fit in my locker. After hours of diligently studying practice books, I realized that playing an instrument was much more difficult than it appeared. Leisure time was absorbed with practicing and I eventually trained my fingers in coordinated submission. My first competition was five months after beginning band.

Competitions will forever make me nervous, regardless of how many I partake in. Sixth grade was the first time I had ever competed in any music-related contest; I received gold. After that first time, I thought I would never compete again. The anxiety I placed over myself was all-consuming and worry ate at me. Later that year, I was the only person in my grade to be chosen to play in a state regional band. Because the regional band consisted of different schools and grades, this was more pressuring than my previous contest. In the months following my time with the regional band, the same competition of the year before was taking place. I thought to myself, "You got gold last time. Why not do it again?" With my self-goading, I competed a second year and earned gold again. I won gold the following year also. Through these opportunities, I built a passion for music.

Involvement in the art of music has played a large part in the development of my personality. Due to music, I have a way to express my interests and pursuits without words. Even though I am not playing a piece, just experiencing the feel of the metal warming in my hands improves my frame of mind. Music has given me the chance to communicate without speaking. Opportunities I have had in my musical career are important because I have a chance to interact with other people who find the same delight in music that I do. Music has created a stability to my life and because of the chances I was given, that stability will not be forgotten.

The joy that music induces in me will be forever worth the hours spent practicing and preparing. Music is a reprieve for me in which I can block out ever-present troubles and worries, notwithstanding my location. I don't have to wear a mask or morph my persona into what another would like to see when I am presenting through music. Through music, I am able to express myself wholly and truthfully. Music is more than just an intonation of beats; music is perception, personality, and passion.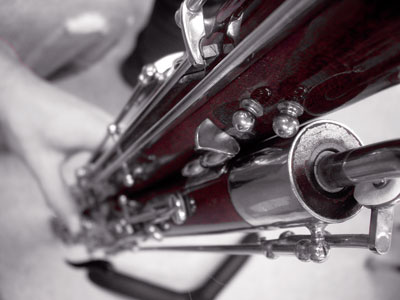 © Sean C., Princeton, IL