My Name Is...
August 2, 2010
I don't do it because I want to. I don't do it because I have to. I do it because I need to. It's not an addiction, I can stop whenever I want.
I'm Tayah, and I'm a writer.
Does this introduction spark any red flags? Does it remind you of anything? Whenever I read over it I get taken back to AA meetings; Alcoholics Anonymous. Not mine, of course not, but the commercials. The TV shows. You get the point.
Addictions can be terrible things. Meth, cocaine, marijuana, even the supposed to be harmless cigarettes. They can suck the life out of you, giving you a one track mind. You're only focused on your next hit, your next high. You don't care about anything else.
Writing, to me, is just like this. When I am in what I call a 'frenzy' I can't seem to stop. Everything has a double meaning. That huge water fountain in the mall? It signifies the shedding of someone's innocence as each drop of water splashes into the bottom. It also parodies a waterfall, roaring and fast with no real destination.
The thing is, there is no Writer's Anonymous. There is no Twelve Step Program for us. Why is that? Is it because people don't truly see writing as an addiction? Instead, a creative outlet? Probably.
Is writing truly dangerous? To some people, maybe. I would know from experience. You can get sucked into this imaginary world, and soon reality holds no true meaning to you. You aren't an eleventh grader who gets bullied everyday anymore, you're a mage with the power to save the world as we know it. As you know it.
I don't believe that writing is honestly dangerous. I don't believe it can kill you. Mentally, physically, not at all. It's a wonderful addiction that I don't ever want to get rid of. So what if you prefer being a mage to a freckled high school student? No one has any real right to stop you.
I'm Tayah, and I'm a writer. I can stop anytime I want to. I just don't want to.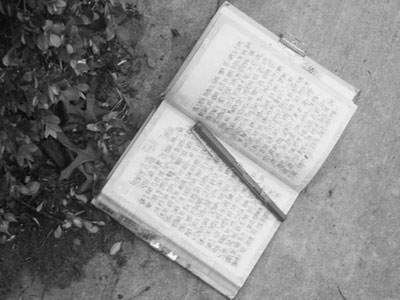 © Quinn B., Lubbock, TX