LEAVING THE REFUGE CAMP
December 11, 2009
We were sleeping and we were woken by the sound of guns. During the night of August 13, 2004, in a refugee camp in Burundi, Africa called Gatumba; I was with my parents and all my siblings, and my friends. Then we got attacked by the group called FNL, and they did not think twice before opening fire on the tents, ensuring that there was no way out. My brother shouted, "Dad they shot me." Everybody was shouting at the same time. They killed hundreds (166) people, and 156) were injured in a couple of hours before retreating in the darkness. I lost two uncles, my grandpa, and my aunt. my mom, my sister, and my brother were injured. It was like a nightmare, as we were expecting a good day but we ended up burying relatives instead.
At that time, I didn't have any place to go. My mom, my sister, and my brother were in the hospital. And my dad was with them. I couldn't think of anything. I was confused. I was just 11 years old. I didn't know where my cousin's were. I asked myself, "What if all my family members are dead, who am I without them?" Then in the morning I went back to our tent and that was when I found my other uncle and his wife there Standing in the middle of the camp. I could see my aunt with her hand holding her chin, and my uncle standing with his hand on his hip waiting to see if they could sees one person from my family. When I saw them I shouted, "Uncle, I am alive," and my dad took mom, Jolie, and Espoire to hospital because they were injured, they shot my mom in the stomach, and they shot espoire on his shoulder. My uncles asked, "Where is Yvonne?" then I said, "I don't know because I saw her last night with my mom, but I didn't see her again. I was hiding with other in the bushes, but I couldn't see Yvonne.

After about one hour I saw Yvonne walked toward me. She didn't have her shoes on, and her clothes covered with blood, so I gave her one pair of mine. And we walked together to the camp and we found my grandma in the camp too. We ran toward her then she said, "Where are the rest of you?" I said, "the police took them to the hospital." We spent the rest of the day in the camp. Around 7:00 PM, My uncle took us to the city to stay with his family and that was how we survived.
When I think about what happened to my family I remember seeing my brother on the ground when they shot him. I especially remember seeing my mom also in the hospital pregnant. I changed because I used to be young girl who couldn't do anything but now I am the one who does everything. Now, I realize that tough time can make you confused. But people can help you by picking you up from the gutter.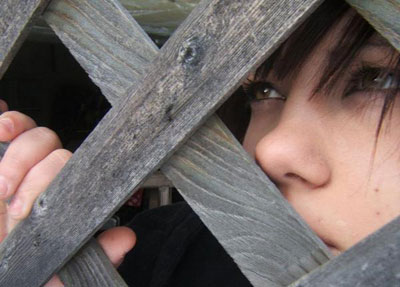 © Krystal B., Bloomingdale, IL