My Relationship
October 19, 2017
My bedroom. Blankets, clothes, and many sleepless nights and restless mornings. I grab my phone and text my girlfriend good morning, then continue on with my day. Up until my first hour, like most days, this was a mediocre day.

I strolled with her to her class, walking through the halls as happy as can be. She asked me to hold onto her phone, like usual.

I went to my class, and she got a text message from one of my best friends. I thought nothing of it until I opened it. In it I saw a picture from their call last night, It made me cherry red with rage, f***ing rage.
"She's flirting with my best friend!!" I spoke with words filled with rage
Well, I confronted her and we discussed for the next two classes. After all of that, she made a decision.
She left me.

I was mad that she had the audacity to do that. Then she talked a bunch of crap about me, behind my back, making me very down trot.

That night (and the following days), I didn't eat, I didn't sleep, and I couldn't get the thought of suicide out of my head. No matter how much I talked to my friends, the thought was still there.

My cousin and I started hanging out around this time, and every time we hung out we would listen to music that seemed to help me move on. But, like most songs, I thought about all the good times I had with her. And missed her more.

I remember a lot...

I remember one time when we were going to a movie and my mom made me drive. I scared her a little bit and shook my mom (I'm not that bad!). We saw a scary movie and for the life of me, I do not remember what it was, but I remember my mom liking her, and praising her for being great to me.

I also remember the first time I met her, she was the most flirty girl I've ever met, making me like her really quick. It was my cousin's birthday party and I remember the whole thing because of her. It was a very beautiful sunset that night. We talked the whole time and I learned about her, her past, and her future. When the food came out and we could eat, she and I waited and went together. There were candies out on the tables, and she asked me to try one to see if they were hard candies (they were chocolate balls).

She always made me remember whatever we did and it was noteworthy because I can look back and see the good and bad about everything. But, I will always have a soft spot in my heart for her, even though I don't believe she deserves one.

But, like gum, it sticks to the back of my head. Slowly killing me, and dragging me down, like a well with slick walls.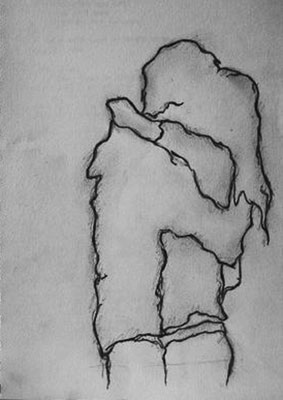 © Nicole B., Newcastle, WA