Punches Thrown
November 22, 2017
The day was clear and crisp as leaves fell to the ground, crunching under my blue runners as I walked over to Ethan C. and Ethan D. Ethan D. turned and waved at me, his big toothy smile visible from at least 30 feet away. I smiled and jogged over to them, my jacket swishing. Ethan C. looked up at me.
"How come you didn't get on last night?" Ethan C. asked, referring to his online game.
"I forgot," I lied, not wanting to let him down. I hadn't even purchased the game yet. There was a knowing look in Ethan D's eyes. He knew I didn't have it, and he could tell when I was lying.
"Did you already do the addition homework?" Ethan D. sighed, changing the subject to avoid being complicit in my lie.
"We had homework?" I asked.
"Did you forget? That's bad, do it at lunch," Ethan C. broke in. "Are you any good at addition?"
"I know how to add, not two-digit numbers though," I admitted. Ethan D. was staring at something over my shoulder. He tended to do that though, so I ignored him.
"Seriously, get on tonight after school," Ethan C. told me. His poofy hair was sticking out. He saw me staring, so he ran his fingers through it, making it more poofy.
"I'll try," I lied again.
"Guys," Ethan D. said.
"What?" Ethan C. and I blurted in unison.
"That annoying kid is coming over here," Ethan D. said, still staring off at something in the distance.
"Which annoying kid?" I asked. I didn't like a lot of kids. This was my first year here, and Ethan C. and Ethan D. were the only kids who had been even decent to me.
"Oliver," I heard one of the Ethans mutter with disdain.
"Not Oliver! We should move away," I said, whining. Oliver was a jerk.
"Too late!" I heard a high voice exclaim. I turned to see Oliver, his mouth curled into a cruel sneer.
"Hi, Oliver," Ethan C. sighed.
"Hey, Ethan," Oliver said surprisingly pleasantly. "Why are you hanging out with that big dummy?" Oliver pointed at something. Wait a minute, is he pointing at me? What did he say? Is he... Talking about ME? The realization hit me like a brick. Big dummy? BIG DUMMY? My 3rd grade honor was challenged, and you NEVER back down from a challenge. I marched up to Oliver.
"Take it back," I demanded.
"No!" Oliver laughed and stuck his tongue out.
"Fine!" I balled my fist up and released it, taking a deep breath.
"Big dummy!" He said again.

I was enraged. I balled my fist again, pulled my arm back and swung as hard as I could straight into Oliver's jaw. Oliver stumbled backwards, put his hand over his jaw and looked up, his blue eyes filled with hurt and surprise. He looked around wildly, then ran as fast as he could away from me.

Ethan C. jogged up to me, mouth ajar. I turned around to see the kids in the sand field were staring at me. They were as shocked as I was. I turned to say something to Ethan D, when a hand grabbed my shoulder. I turned to see where this hand came from to be greeted, to my dread, by the scowling face of a recess monitor. She saw! I froze feeling my emotions rise again. This time not anger, but disappointment; and not aimed at Oliver, but at myself.

"Come with me, young lady!" She demanded, marching me off.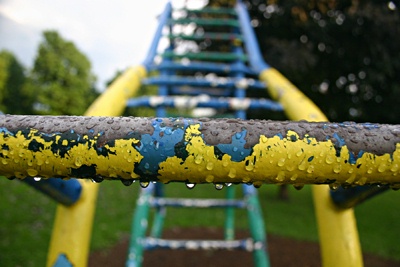 © Faith E., Albany, NY