A World Of Color
MAG
August 19, 2017
"You are so white for a black girl!"
"Black people can just be so ____. Not you, though! You're the exception."
"I like how you don't talk black."
I used to think these were compliments. In my little world where I loved to read for hours and learn at school, comments like these would make me look in the mirror and smile, thinking, Well, look at how I turned out! Despite the color of my skin, people like me! Heart swelling with pride, I'd go about my day as the happiest girl in the world. A world in which I saw all good things to be white and all bad things to be any other color besides white. That would include my own skin.
I had this mentality when I was a little girl. Now, as I am approaching my last year of high school, I am shocked and heartbroken to see adults in Charlottesville who have that backwards mentality. They live in a world in which all good things are white and all bad things are any other color but white. Shouting, carrying their torches, they chanted their hopes for a world that acknowledges white as superior.
Though I could be angry or disgusted, I mainly feel sad. So terribly sad for them.
What went wrong? What could have happened to make them lock their minds in that limiting mentality?
Perhaps they were simply taught to hate and look down on others, instead of to love and build others up. Perhaps they see the way minorities are treated in America and decided to fight for their own supremacy, in fear of becoming a minority themselves in this country that is growing increasingly diversified.
And what a troubling outlook, when diversity is truly nothing to fear. It is a glorious thing that humanity comes in all shapes, sizes, colors, cultures, and backgrounds.
I've lived my life as a minority. And to any white supremacist who may stumble upon this article, let me tell you that I don't regret a second of my existence. I dance and twirl in the sun, loving the color and luster of my skin. I laugh with the deepest mirth, my full lips stretched in a joyful smile. I love the way the wind tries to toss around my strong, thick hair, to no avail. I stand boldly, in love with myself even if you are not. That is the response I choose.
Love your heritage, your skin, every little part of you that was carefully crafted and created and given to this world. There may be people out there who despise you without knowing you at all, who live in a world of "us vs. them." But you belong, and you must claim your rightful place on this earth. Love who you are and who other people were made to be, standing firm in the fact that we were not born to hate one another.
Humanity is better than this. By loving yourself and those different from you, you are shouting out that racism has no place among us. Hate and fear have no place among us. Love is so much stronger, and it lasts, so sweetly it lasts, in places where hate fizzles out, a weak, sputtering flame.
We live in a world of color, where beautiful things come in an astounding array of hues. Good is determined not by what I see, but by what I feel and experience with others. This is a wonderful world to live in. And I pray that we all can live here together in peace.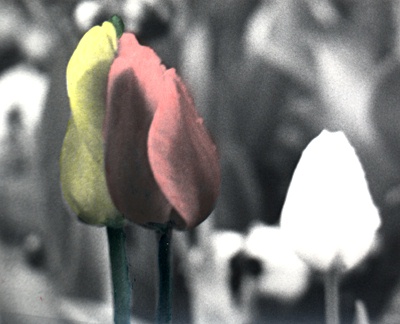 © Matt B.,Highland Village, TX