How To Completely Isolate Yourself: A Guide
July 27, 2012
Step one on the way to a lonely life is acknowledging your personality defect and enhancing it. You can't let any of your happiness, however pitiful, come to the attention of anyone else. If necessary, live under the guise of being "genuine" or "honest" with the world. Take joy in the irony that, while doing so, you are, in fact, being disingenuous. There is no better way to be both alone and self-satisfied than to pretend that you are unique in having problems. Remember; no one is as special or challenged as you are.

Everyone has unresolved issues, but if you're not too careful, you could unwittingly settle your grievances by letting someone into your life. Beware of this, for with affection and respect, comes a natural responsibility for your actions. This goes against everything the isolated person stands for and could cause irreversible damage to that inherent selfishness that is so necessary.

Be sure to never notice or care for the people around you, because you are you're only priority. Being oblivious ensures the emphasis be put on you. Pride and vanity are keys to being successfully set apart from your surroundings. Just know that you are smarter than anyone could ever possibly be, and your arrogance will make you stand out in the way you so desperately need. When it comes to arguments of any kind, you can have complete confidence in your opinion, misguided as it may be, because your extreme intelligence knows no match, and to challenge it would be a regrettable mistake. We can't forget; it is impossible to teach a person that knows everything.

Let's not neglect your needs! Not that you ever could. Attention is something that you, and only you, deserve. Sometimes, pretending that praise is unwanted can produce the desired effect. When you exaggerate every problem to its highest worth, people occasionally feel sorry for the melodramatic trauma that you fabricated and cater to your delusions. This makes you feel special without having to care for anyone else. You can find comfort in knowing that this is the most temporary of regards and you can go back to being disconnected from humanity almost immediately.

Some of the most satisfying things about a life of seclusion are the reasons you can invent to explain why you are this way. A favorite is that of hidden genius that has been denied, ignored, or neglected. This way, you can still feel unrealistically amazing about yourself while retaining that stubborn insolence you excel in. Have a fabulous time on your journey to isolation. The mindset of absolute idiocy is a difficult one to achieve, but once you have it down, you are ensured a life that is pitifully empty.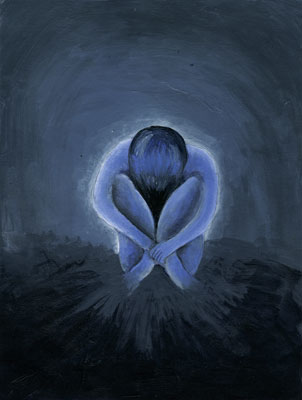 © Becky F., Sacramento, CA