Daniel
November 14, 2008
Up! Down! Left! Right! His legs move along in a frantic rhythm, moving in ways thought impossible for one with bones in tact. He steps thunderously on the pad, provoking the image of an angry giant, chasing Jack down the beanstalk. The power he exerts is surprising if you've ever seen him. He is like a skeleton, no fat nor muscle, just a mere stick. His short brown hair sticks up in unmanageable positions, sprouting like an overgrown field. The bits and pieces sway in their own dance, paying no mind to the beat of the song. A sudden jump in his step causes his frail glasses to slide down his pointy nose. His arms, like the thin branches of a tree in a violent storm, are swinging wildly to no apparent rhythm, but somehow seem to correlate with his dance moves. His feet move faster and his shirt billows out, as if to make a point that it truly consumes him. Even as he hunches over to see the flying arrows clearly he still towers over me, casting a dark shadow to match his usual bitter mood.
As the song finishes up, he lazily collapses onto the couch behind him. With deep, long breaths he stares at the screen to see his final score. An arm and a leg dangle off carelessly as the red fades from his face. "Beat that." He says as a smirk plays across the thin stubble of his chin. That skeleton-like being there, sprawled across the couch like he is king of the world, that would be Daniel, my "loving" older brother.
We've had ups and downs as frequently as those in the steps of Dance Dance Revolution. But despite how often his foot stomps on the down arrow, it is always countered by numerous other beats that do not trend downhill. We both have messed up; we both have provided more than enough reason to hate each other, but despite many bitter years we have managed to stand side by side. In a home run by hypocrisy and immaturity, we need each other to cancel out the insanity of our family circus. From the times when he would bury me in haystacks, throw footballs at my head (which was always his favorite target), and carelessly massacre my dolls he has made a full 180 turn into a dependable person. He has stood up for me so often in the past. He's held my hand through heart breaks, while threatening to break the offender in half. He's dug the graves of my many deceased hamsters.
The nights of fights with our parents and his devastating tears, is when our bond is at its clearest. When he begs me to make more of a future for myself then he did, it is then that I know how much he truly cares. He has protected me and always been there.
I, however, have not. I'm not always the greatest little sister, but he knows I try. Being the wiser of us both, he knows no matter what I say, no matter how moody I am, I'll always have his back. Whatever his final score may be on a song, he will always have me to "playfully" punch in the arm.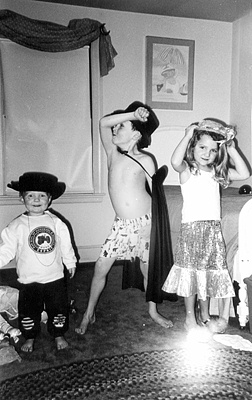 © Courtney M., Marblehead, MA