Modeling
November 21, 2010
Living in a small town, especially, I have become subjected to nearly every stereotype from the big screen. The most particular being those of high school, where the screenwriters and directors were spot on. There are the typical cliques and social hierarchal statuses at my current high school (what with the jocks, the nerds, the preps, the cheerleaders, and the rebels,) and are found nearly everywhere. However, some people have managed to stray from this magnet of peer pressure and do things their way.

She is a senior this year, two years older than me. Her interests range broadly in the aspect that she is the Student Council President, Secretary of the National Honor Society, and a cheerleader. Almost everyone that I have heard of has a high opinion of her, and every time that she passes me in the hallway, I receive a friendly greeting.

Normally, I would not have become acquainted with her because of her level of the metaphorical food chain that we high school-ers live by, but we are in many of the same organizations. Last year, when I had no choice but to attend a Student Council function in the form of a dance, she invited me to hang out with her friends, despite the fact that they were her cheerleading pals and scarcely spoke to anyone they considered un-cool.

She is my role model; because of her, I push myself to be a better person, and stand up for others. I will miss her presence in the school once she graduates, although I hope that I may be able to somehow fill the large shoes that she has left behind.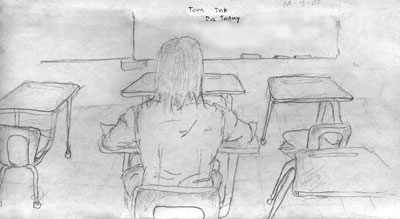 © Christopher M., Dededo, GU