Stephanie Hunt, World History
MAG
April 2, 2010
This classroom is a sanctuary, a safe place where common facts and individual thoughts intermingle. Hands raise with confidence and excitement as new ideas are offered, and 25 enthusiastic learners explore the topic at hand, discussing, analyzing, and inferring. No area is boring, be it imperialism, war, nationalism, or Nelson Mandela. Shy students sit among braver voices and are encouraged to join the conversation; there is no foolish answer in Ms. Hunt's classroom.

Ms. Hunt relates to her students naturally. She is bilingual, familiar with both a language students can understand and a language more mature than ours. She teaches creatively, fluctuating between familiar topics and foreign ones. She has us participate in debates and offers games that stimulate our minds. If someone feels lost, they don't hesitate to ask for help. Unlike some teachers, Ms. Hunt makes us feel smart – not silly – when we ask questions. She creates a hunger to learn in her students, a thirst for knowledge that no other teacher has inspired. "She makes me come out of my comfort zone, and really think about what she is saying," one of her students told me.

While Ms. Hunt is very pretty, it is not her appearance that intrigues us the most. What ­attracts us is her compassion: the way she ­accepts her students as they are and is determined to teach us, regardless of our limits. In my class there is a boy with special needs. While some teachers become frustrated with special-needs students and their occasional quirky behavior, Ms. Hunt embraces it. When this student speaks in class, Ms. Hunt nods and responds. When he is finished, the boy takes a deep breath and smiles proudly. Ms. Hunt always shares this smile with him.

Trust is not something that teenagers feel easily in adults; yet trusting Ms. Hunt seems normal. A student I spoke to said, "If there was a teacher I would go to talk to, it would be Ms. Hunt." She once told me that while she is my teacher, and is required to teach me history, she can teach me other things too. I share my poems with her. She reads them and offers great feedback. I trust her opinion because she is a talented writer herself, and I appreciate that she takes the time to read my work more than she knows. It makes me feel significant, like I am more than just another student.

Ms. Hunt is a role model in every sense of the word: a well-educated, empowered woman who makes me feel like I can achieve success. I admire the patience she has for every one of her students as well. She has an aura of safety and acceptance for empowering students like me to trust her and feel comfortable learning from her. School, for so many, is a bore. But there is at least one class that students look forward to: Ms. Hunt's World History.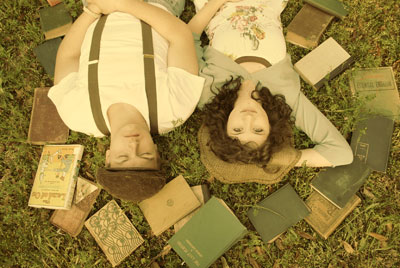 © Gabrielle A., Pensacola, FL