Loss
April 2, 2009
She's died. Says the adult. Wise and quiet. I looked up and stare in wonder at the strange word he has locked with my friend's name. I stare, not realizing how much I would remember this day, the words and questions I asked. What is death. It is a loss, a loss to mourn.
The strange feeling filled me up as I stood there, wondering where the weight of my heart went. But how I was yet somehow glued to the ground and it shocked. And emptiness. It will end as you come to understand it.

Before the actually words hit me, it was just shock, just wondering where they had gone. What had happened? Where did they go? Was it disappearance? The loss of their soul, their ghost? Or we're they still lurking somewhere, anew to a better life, in heaven? And I couldn't seem them. They're in your heart.
And still the emptiness existed. One handed rubbed my shoulder. It wasn't anything. I still just stood, wondering how it could've happened. In the stories everybody lived happily ever after. No one ever died happy in the stories. Adult whispered around me, "At least she went in peace."
I didn't get it. In the stories, back when I was younger. When those same adults read me stories they talked about the only the bad guys dying. Everybody goes somehow, might as well be in her bed. But what happens? Do your dreams suddenly end? Does your mind stop before your heart, or your heart before your mind? All these questions, no answer in sight, nobody that could answer them.

But where did my friend go? I don't know if the adults are lying. They say heaven, but how can I make sure. I want to make sure my friend, their friend is happy. They'll be happy as long as you're happy because they love you.

But god says he loves everyone. He wouldn't kill people who never did anything bad? My friend couldn't have done something bad. My mind twisted and turned. The adult's face was heavy and sad. More pained than I. My heart didn't comprehend the sadness, not until there was a meaning for it. I was still confused. Having so many questions, the answers of the adults were too grave and quiet. I wanted to get her back. Why did God kill her? Because if God did not end good and bad people's lives, people would not see any meaning to be good. We are rewarded for being good when we go to heaven, and when we live. God rewards good people with good lives and painless deaths.

But what about those who had been murdered? Were they all bad people. I couldn't see why. I couldn't see how. And the adult's answers were too foggy, too ancient and too sad. Melancholy, disconsolate, and how many other words were there for this one meaning? This is the one intangible and impossible feeling. Why were there so many words? Why did good people get killed by God? God did not kill them, people who have done bad deeds, who are blinded, have killed them. God will punished those who deserve.

Does the sadness ever end? I asked the adults, sometimes, your lucky, your young, your ignorant to what pain is, child.

I realize later what loss is. It means when I come and look my friend, she is no longer there. I forget sometimes, that she is gone. I imagine telling her about things, accomplishments. But she is gone. People tell me she sees in heaven. I used to ask if I could visit, they told me not to. I shouldn't, my time would come, just like everybody else. I understand why I don't visit now.

But does anybody really know. I watch shows about this and wonder. Is she living in my heart? Is she a ghost? Is she in heaven, watching over me? Or has she reached enlightenment? Or passed on to another life? And some say dead is dead. Everything is gone. Nothing is left of my friend.

And doesn't it count that I remember her? Is that nothing? And that I will tell my future children about her; and then hopefully my grandchildren if I do not live to tell the tale? Does that not count? She is still there, in us. Maybe she is not truly alive in our hearts, but memories and her life is reminiscent. Does that not count? Why do people talk of her being gone? She is not.

And even though the emptiness has subsided. The side effects of shock and fright have left. The wondering of where she and everyone else have gone to has not disappeared. The hole in which lays in my heart is still there. And though it has gotten used to her absence, it still mourns it, and wishes not of it. I wish that I can say hi, and make her proud.

I just only wish that she wasn't gone.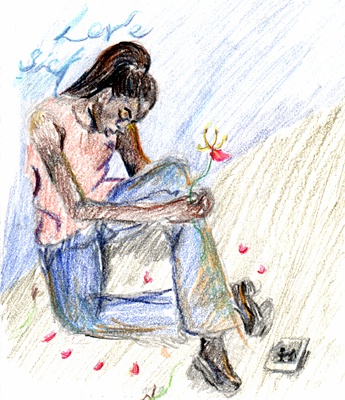 © Sherell B., Philadelphia, PA