When i change
November 22, 2008
Today is 19 July a normal day of school ,i am known as the biggest bully of school as i am quiet big campared to the others of my grade I am 5.5 feet in the 7 grade . I am know as a big and a mean bully in the school but no body knows me well .I am close to same of my friends who are in the football team with me soon days pass.
My holidays stared and then my Father cames to spend same time with me , my parents are divorced and i do not like my father for what he did to me and my mother .
He came and told me that he is takeing me to Banglore and i was very unhappy like i just stared to make friends and this man is takeing me away , i was crying.
AFTER TWO MONTHS
It was my first day of my new school i was very sad i as i loved my older school very much . I went school the school was ok but i felt lonely , My first class began and i was the children were very ill behaved and after the teacher went they were haveing drugs in the school . I did not like all this , i went home and stared to think about my old friends and school i missed them , tears starred to rush down my eyes i felt sad and bad .
Days passed as weeks passed as months passed by .
Soon i changed staying in that school in never relasied that you do not miss things till they are take way from you, for my support i had a cosin over their her name was Samia staying with her i felt happy .
ONE YEAR HAD PASSED BY -
Soon my father send me back to my old school i was very happy with this, but i was scared at the same time as i changed from a Big bully to a sweet and understanding person .
I went to school and soon every body stared to accept me the way i am i got more friends more people who liked me but still same where they were scared of me .
WHEN A BAD PERSON BECAMES GOOD PEOPLE DO NOT ACCEPT THEM EASILY .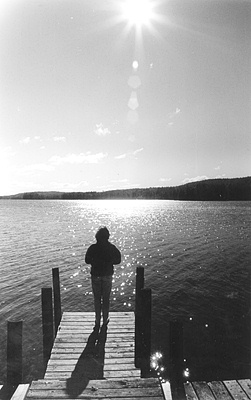 © Beth S., Marblehead, MA