Stitches
MAG
May 25, 2013
We are sitting in the hum

of a tired sewing machine,

and I am watching my mother's hands –

watching the shifting of thin fabrics,

the needle captured

between two callused fingers,

as she pulls the fragile stitches tighter.



I am studying scars,

the reminders of ripped skin

that line her hands,

and trying to imagine where each ­silver mark

was born. Whether needles or irons

or cracked pavement left their initials

on each toughened finger.

I sometimes ask her

where she comes from,

why her hands are so lined with memories,

but she just smiles and says

Hush, hush.

so I smile back, one pretty white
finger raised to my eight-year-old mouth and I whisper

Shhh.



I'm not supposed to talk –

to mention the yellow tobacco stains

or rust-red scrapes that I sometimes spot

hiding on her skin.

I'm not supposed to ask where her rings go

or why she sews,

never ask where her newest
masterpiece is destined for.

I am supposed to see only the
deftness of a needle

and the bright patterns of her cloth,

but I don't.



I see more than she thinks I do –

the hidden stitches,

little golden threads

like puppet strings,

and the way she laces us gently

together with her secrets.

My eyes find the tiny imperfections,

wrecked patterns and crumpled edges

I was never supposed to meet.



My mother sews bravely onward

and I sit watching her –

watching the wrinkles and scarred knuckles

and I wonder what she sees when she looks at my hands;

what the fabric would look like if she

let it fall –

what the stitches would release.

Somewhere beyond me the machine whispers,

hush hush

and she looks up from her fabric just long enough

to throw me a rueful smile,

saying nothing

as she pulls another thread,

stretching it long and taut

like a tightrope

across our fault lines.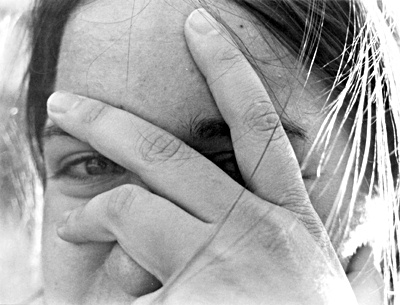 © Claire E., Bethesda, MD