Our Flag Still Stands
October 3, 2017
The flag billows in the wind, providing a sense of unity throughout the crowded stadium. The national anthem blares, cueing the echo of footsteps as people rise. The song may be a pre-game ritual to most, but to me it means something more. As the monotone voices absentmindedly hum the familiar tune, I take time to dissect this tradition and think about what patriotism means to me. As the crowd cheers, I am left with my thoughts while I watch as our flag still stands.
February 23rd, 1945. Shots rang out in Iwo Jima as American Soldiers risked their lives fighting in World War II. Being one of bloodiest battles, 26,000 soldiers were killed for our freedom. Six men courageously trekked to the top of  Mount Suribachi to create the iconic image of the battle and to ensure that, even in the midst of war, our flag would still stand.
July 20th, 1969. The jets of Apollo 11 roared as the first US space shuttle journeyed to the moon. A symbol for new advancements, Apollo's launch inspired new growth in the US. Astronaut Buzz Aldrin made sure to continue the American dream on the moon by making sure our flag would still stand.
September 11th, 2001. Cries filled the cubicles in the South tower of the World Trade Center. Brian Clark, a survivor, recalls the event as being "the worst day in America, with the bravest acts in American history." People flooded NYC to aid in rescue and recovery. George Johnson, Dan McWilliams, and Billy Eisengrein were firefighters who trudged through the ruins to honor the victims of the catastrophe. They made sure even during a time of despair that our flag would still stand.
The flag still billows in the wind symbolizing our freedom and honoring those who have perished. As the game continues, I grasp the understanding of what patriotism means. It represents the struggles we have overcome, the bravery of our troops, and the advancements we have fought to achieve. As citizens of the United States, we need to remember why our flag still stands.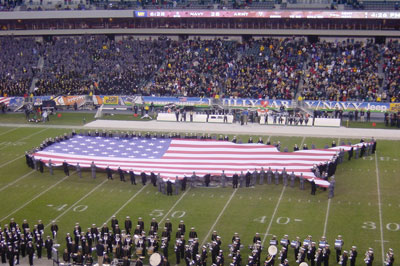 © Kristin B., Middletown, DE