June 12th
June 12, 2017
One year later and candles line the streets, soft embers and rose petals dusting the asphalt. Rainbow flags draped over memorials and bouquets leaned against tombstones. Families and friends crowd close together and support is found in simple touches.

One year later and no one talks about it at school. It isn't mentioned, it isn't discussed, it is somehow forgotten in the hustle and bustle of the last days before summer. The Safe Schools signs promise that we are seen, we are heard, we belong. But I'm not so sure.

One year later and 49 people were killed a mass shooting in a gay club in Orlando, Florida, and we still can't even say their names.

One year later and the citizens of the United States of America elected a man who personally made an appearance at the NRA and claimed that the "eight-year assault on gun rights is over." And they still wonder why we scream to be heard?

One year later and I remember being the only one who seemed to be upset. I remember getting looks of confusion, hurt, pity. It was brought up in class and my teacher asked if we wanted to talk about it. The answer was yes, but not when I knew that at least three of my classmates would argue that the Second Amendment should still be respected. Not when I knew that I was the only one out at school.

One year later and I want to ask for a moment of silence and I want to cry and I want to feel safe.

One year later and my country tells me that I'm not entitled to that.

One year later and our tears go unseen, our screams go unheard, and we are told again and again that we don't belong. One year later and we say that they'll never be forgotten but there is a man sitting in an office and he sends the order to remove the LGBT+ Rights page from the White House official website. One year later and his Vice President supports conversion therapy. One year later and we still don't have the right to take up space.

One year later:

Marchers line the streets. Flags are waved. Feather boas and tiaras are handed out. Signs are carried. Kisses are shared. Hands are held.

One year later and we are not afraid. We are not afraid. We are not afraid.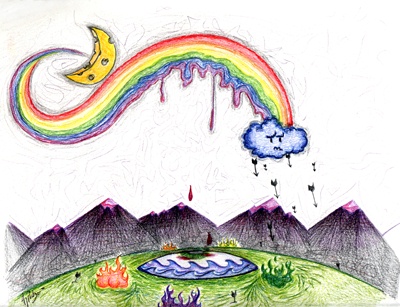 © Alexa P., Ridgeway, PA