Gone
November 1, 2008
Normally I would have cared. I would have cared that my life was falling apart, and that both of my "best friends" hated me, but because of Brittany, I didn't care.

I'd saddle up my pinto, let my hair down, and hop on her back. I would give the horse her head and think "go".
And she'd run.
And run.
And never stop.

Riding just felt so right. But everything else felt so wrong. My "friends" were mad at me because I was now friends with Brittany, and she was in another "clique" than I was.

That was what was wrong with middle school. It sounds silly, but within the first weeks of school, you're expectations are set: who you're expected to be, adn what you're expected to do and hang out with. All laid out in front of you.

If I'd have seen it coming, I would have changed everything.

But it was too late.
So I ran away from it all, leaving it all behind for now anyway.

I imagined it was forever. I imagined myself free, atop of my mare's Tequila's back: Suspended in midair, free and graceful.

I listened to Tequila's hoofbeats.
And her breath.
And the wind.

And then I heard Brittany's voice ringing in my head, and I knew it would be okay. That was all that mattered: my only true friend, my BEST friend.

Why care what people think of you?
I'd rather not face the fact I was the most hated girl in sixth grade.

The world could try to catch up with me now.
But I was already gone.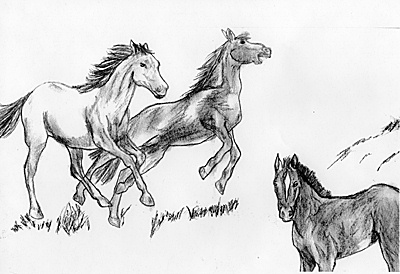 © Ali A., Eau Claire, WI