American Gun Rights
January 20, 2013
As Americans, we believe we deserve certain rights. These rights were established by our founding fathers in our Constitution and its amendments. The second amendment gives us the right to bear arms and, as many of you know, is currently under attack by our government. American's across the nation are now taking sides, myself included.

I live in the country. Hunting is a common activity for many people in my area. While I do not hunt, many of my friends and family enjoy the thrill of a good day hunting. Some use the meat they obtain through hunting to feed their families during the winter months. For these hunters, gun safety is important and is taught to them during early childhood. Even though I am not a hunter, I know how to safely store and handle a gun. If guns were taking away, this harmless recreational activity would be stripped from these people.

If guns start to be regulated, where will it end? First, ammunition is regulated. Then, guns must be registered. Before we know it, the citizens will not be allowed to have guns of any kind. Now you may believe this is a little extreme and that I am jumping to conclusions; however, I am just comparing gun regulation to the pattern that occurs with government involvement. Healthcare is an excellent example. In the beginning, the government stepped in on a low-scale level and made small changes that grew and grew until the government completely reformed and took over healthcare. I believe the same thing could happen to guns.

I was saddened by the events that happened in both Newtown and Aurora. These were tragic events and the lives that were taking can never be replaced. I give my condolences to the families of the victims. I do believe that having 100 rounds of ammunition is excessive for any civilian. I think that something must be done to prevent these tragic events from continuing, but it was not the guns who had the idea to walk into an elementary school and kill young, innocent children, it was the man behind the gun. Guns don't kill people, people kill people. To blame the gun is like blaming the car in a drunk driving accident. The gun is not the problem.

Also it must be considered that the guns in the Newtown shooting were stolen guns, a gun registry would not have made any difference in this situation. Also the same day as the shooting, another school was attacked and several students were killed by a man who used a knife as his weapon. Sadly, we cannot remove every weapon in the world from those who have it in their mind to kill.

I wish I knew the answer to this problem, but I do not. My opinion on gun rights, I do know. You can look at history and see how well removing gun rights from citizens worked, it did not. I believe that American citizens still should have the right to own and handle guns for recreational purposes. This is our right as citizens of the United States of America.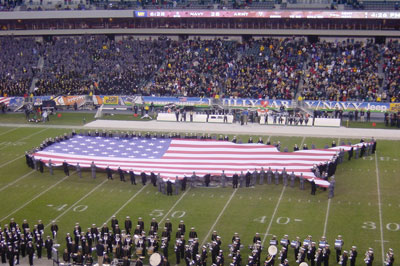 © Kristin B., Middletown, DE