9/11 & My Mother
MAG
In December 1999, I turned 13. That year two things happened. First, my family took me to New York City for my birthday where we saw the Rockettes, Grand Central Station, and many other sights. We went to the Twin Towers, but didn't go to the top, deciding to save that for our next trip. That opportunity would never come.

The second thing that happened was I became a stereotypical teen who didn't get along with her parents. I would roll my eyes at their every word, pretend I didn't know them, and never say I loved them.

I continued like that until September 11, 2001. I was in history class when our principal solemnly announced over the loudspeaker, "We have just heard that a plane has hit one of the World Trade Towers in New York City."

We were all in shock, and even my teacher seemed confused. It only took a couple of seconds for me to start worrying: my mom was a flight attendant for American Airlines. As I learned more, including that the plane was an American Airlines flight to California, I became more afraid. Is Mom working today? Was she on that flight? I also worried that some of the Boston-based crews I knew might be working on that flight.

Those fears run through my head until English class when I was called to the office. As I walked there, I wondered if I was about to hear good news or bad. I was so relieved when the secretary told me my mom had called to make sure I knew she was not working. She was safe.

When I got home that day, I told my mom I loved her. We cried, and I tried to comfort her. The day was especially painful for her. Even though I did not know anyone on those flights, she did.

That day we grew closer, and since then, I have not let a single day pass without telling her I love her. Now I know better than to take family for granted and not to put off something I could do today.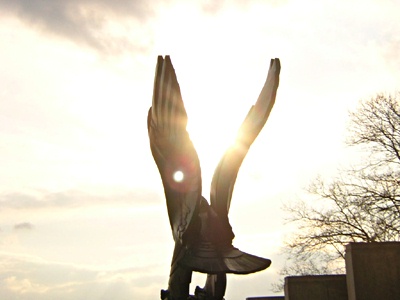 © Brittan S., Claremont, CA