Poverty Is Taking Innocent Lives
October 17, 2017
Poverty is taking the life of millions of people each year imagine u not being able to eat well or live in a good place. And the sad thing is that millions of children die each year and the sad thing is that they want to live but they have no choice.But if we find a way to reduce the number of deaths caused by poverty that will change the world and save so many lives.

People are dying just because they do not have a home or food.Like Ronald Reagan famously said "We fought a war on poverty and poverty won". Can you imagine 45 million americans live in a state of poverty not just that but all over the world its billions of people die. Sadly poverty has a long way to go the numbers are extreme but we need to fight poverty with everything we got.

People think that the reason why so many people are in poverty it is because it's there own fault and that's the reason why there extremely poor and are dying.They say that they are there because it's there own fault.

This is wrong because some countries have bad economy and do not have the money to pay for jobs and also debt,lack of education,and large population .People cannot even find jobs.if you are lucky you can depend on food stamps and not everyone is fortunate to get them.

Millions of people have died and the numbers keep increasing by the day this must be stopped or be reduced because the number of deaths is not good we all should try to find a way to help people donate would help so much.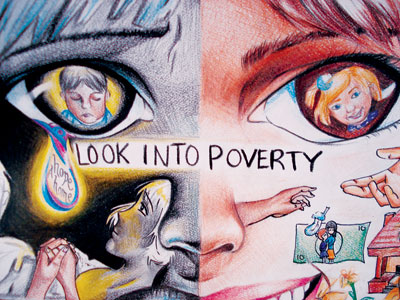 © Shirley L., Chino Hills, CA