You Never Eat Chinese Food Alone
June 10, 2017
"You never eat Chinese food alone."

My culture is meant to be shared. Even age-old sayings such as this one confirm it.

My culture is meant to be shared. It is not something to be made fun of.

Imagine coming up with the best idea for a final project. You pull an all-nighter trying to make this idea work and now it's perfect, it's unique, it's yours. When you come to school, you start working on your project, eager to show your friends, and the whole class makes fun of you instead. They call it stupid, they call it alien, they call it strange. Your teacher even scoffs and gives you a fifty percent, laughing while her pen moves. But another kid peeks over your shoulder and copies exactly the same words, the same format, but with less effort and gets praise accompanied with a red one hundred. Imagine the anger, the disappointment, the injustice.

Why is it that when I am proud of my culture, I get mocked for it? But when another girl wears my clothes, wears it without knowing the symbolism and pride beneath each individual hand-sewn thread, she is praised, she is well-cultured, she is educated. When I wear my own culture on my already weak shoulders, I am foreign, I am weird, I am an outsider.

Chinese people are not commodities. We are not to be traded like coins. We are not costumes. We are not an aesthetic that is used when you need it, when you feel like it looks good on your arm in permanent ink and on your body and in your social media biography. We are not a billboard you pass by on the road. 

We are not the mass of what you call "Asia." We are only a small part of Asia, a part that suddenly became magnified and twisted to fit an ignorant society's definition of beauty and ugliness, poked fun of day by day to fit an ignorant society's definition of humor. We are not "exotic," not something to stare at like an exhibit in a museum.

Chinese people are more than our "bizarre" language and our "smelly" food. Our skin is beautiful, it is ours, it has sweat and tears behind it. Our skin is not something to be replaced in media and Hollywood by a paler one. It is not something that can be changed and slapped a label on. Our skin isn't something that can be run over by another race.

There is a story behind my culture. There is a story in my blood. All I ask is that you respect it, that you share it, that you don't use it and throw it away. That you take it like a present and cherish it, that you don't take it as yours and fetishize it so that it fits your own pleasures instead of the pride of a whole peoples.

All I ask is that you sit with me and share a meal. After all, you never eat Chinese food alone.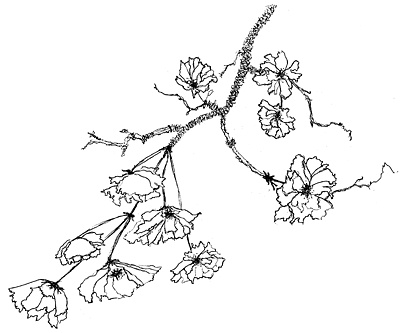 © Marybeth L., Hamilton, NY