How Tall Are You?
MAG
August 7, 2014
On my sixteenth birthday, my doctor told me I was six feet, one and a half inches tall. To me, every half inch mattered. To say I stood out is an immense understatement. I was the tallest girl in my school by far. I was incredibly awkward and gangly, and as I walked down the hallways and felt the stares, I became more and more self-conscious.
When I was young, everyone told me I was going to be very tall when I grew up. My dad was six-foot-two, and I had always dreamed of being as tall as he was. By age 11, I was five-foot-four, the average height of a grown woman. I was perfectly content, but I kept growing and growing, and started to dread getting taller.
At the start of sophomore year I was as tall as my dad and still growing. I found myself slumping in the hallways and sheepishly looking away when I met the gaze of those who seemed all too interested in my height. Everyone greeted me with the same questions: "How tall are you?" "Do you play basketball?" I answered each time with the same gloomy response: "I'm about six-foot-one, and no, I don't play basketball." When they looked disappointed at my apparent uselessness, I often responded with a shy "Sorry."
I did not play basketball, but I did play volleyball. It became my outlet, where being tall made me the star. People stared, but not like they did when they passed me in the hallway. They looked at me with admiration, and my teammates were jealous of the advantage I had when it came to spiking and blocking.
In the winter of junior year I played on a club volleyball team. My teammate, at six-foot-four, was the first girl I had ever met who was taller than me. After we won a tournament and were having a team picture taken, one parent asked the two of us to slouch so we would fit into the frame with the others. I leaned in, but the other "tall girl" just chuckled and said that if they couldn't make her fit, she didn't want to be in the picture.
Later, I asked her if she hated being tall. She looked confused and said, "How could you hate being tall? Everything's funnier when you're so tall. Sure, our legs don't fit in most cars, but if you don't take life too seriously it becomes funny. Every once in a while there's a doorway we don't fit through. So what? Just laugh, because there's really nothing else we can do."
I pulled my shoulders back, picked my head up, and made a conscious decision to accept my height for what it was. Leaving the tournament, I passed a couple who gawked at me. I flashed my biggest smile, chuckled, and said, "The weather's great up here!"
All junior year my confidence grew almost as much as I did. I began to actually believe the people who complimented my height. They told me that I would make more of an impression, and my size gave me a more influential presence. Life is not about trying to fit in. I am a foot taller than most of my friends, but now I only laugh at it. Finding a way to make my situation humorous has made me one hundred times more confident.
This summer, my doctor told me I was exactly six foot two and a half. I decided to tell people I am six three. When they ask if I play basketball, I laugh and say, "I'm not quite coordinated enough. Do you play mini golf?"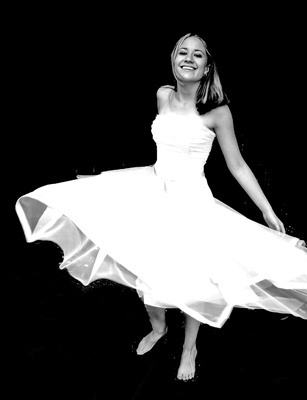 © Kara S., Walnut Creek, CA