How to Paint Your Room
MAG
July 13, 2014
After reading "How to Paint Your Room" in the June issue, I was inspired to paint my room. I made a trip to the hardware store, collected a paint fan deck (a fancy term for those paper color samples), and started pulling my bookshelf away from the wall.

After a few dozen novels had found their way onto my floor though, I realized that I had unwittingly skipped the first step in Erica S.'s guide: I wasn't ready to say good-bye to my plain, off-white walls. I wasn't ready for change.

There's something about your bedroom that makes it special and gives it a place in the deepest part of your heart. "How to Paint Your Room" describes how the walls – no matter what color they are right now – reflect your joys and vulnerabilities and the things that make you who you are. "You could hire painters for hundreds of dollars," Erica writes, "but they won't take as much care as you will to make it perfect; it's not their room, after all."

She illustrates vividly the acceptance of past mistakes and the rekindling of a desire to do something for yourself, rather than anyone else.

Change is never easy. It isn't easy to move away from home base – the pale purple of your childhood. It isn't easy to acknowledge your struggles – the holes in the walls – and to accept that they have shaped you as well as your walls. It isn't easy, and it'll take time. At the end of the day though, you'll look back on the memories fondly, and you'll be glad that you've turned over a new leaf. It takes courage.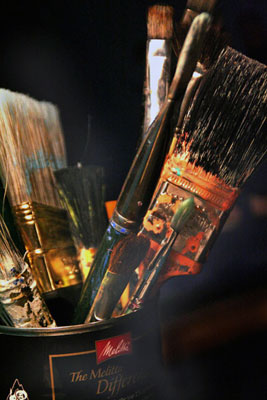 © Marina L., Orlando, FL