Add These To Your Diet Because They Prevent Cancer
August 26, 2013
Green Tea
One of the first plant-based chemicals to be studied for its anti-cancer properties, catechins -- the chemicals in green tea -- have been known for some time to prevent and reduce recurrence of breast and other cancers.

Garlic
More than 30 different studies to date have documented the anti-cancer properties of garlic. The strongest evidence so far has focused on digestive cancers, but garlic appears to protect against all types of cancer, including breast and prostate.

Tomatoes
Harvard researcher Edward Giovannucci reviewed 72 different studies published by the National Cancer Institute, and concluded that lycopene, the active chemical in tomatoes, lowered the risk of many different cancers, particularly prostate, breast, lung and colon cancer. Cooking tomatoes seems to enhance the effects of lycopene, qualifying tomato-based spaghetti sauce as a nutritional powerhouse so, bring on the pasta!

Broccoli and Cabbage
British researchers made headlines last year with a study that showed that men with early signs of developing prostate cancer prevented tumor growth by eating broccoli four times a week. Other studies have shown anti-cancer benefits from eating cabbage.

Blueberries, Acai Berries, Raspberries, and Cranberries
The anti-cancer properties of all these berries are so strong that researchers have developing concentrated supplements and other products such as purees and concentrates.

Onions and Leeks
According to the National Institutes of Health, studies of people from Southern Europe who eat a diet high in garlic and onions show a direct relationship between high consumption of "allium" vegetables (all types of garlic, onions, and leeks) and reduced risk of many common cancers.

Watercress and Spinach
According to researchers in Ireland, who released studies in the past two years showing that eating watercress everyday can prevent the DNA damage that leads to cancer. Spinach, which we're all more familiar with, is also a cancer-fighter; research conducted by the M.D. Anderson Cancer Center in Texas showed spinach to protect against bladder cancer. The chemical that gives spinach its dark green color, chlorophyllin, proved to reduce the risk of liver cancer in research by the National Academy of Sciences.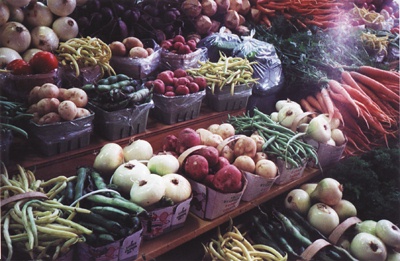 © Amanda F., New City, NY