Unfinished Business
December 10, 2009
As I lay in this hospital bed, watching the snow fall softly, I thought about my mother who died only two years ago of a rare disease, the same disease that took her life. This made me very scared to think that I have the same thing that she died of. I tried not to let it get to me, but it was times like these that it all seemed hopeless.
I felt an uneasy presence coming from under the bed; I soon found out it was my own mother trying to help me. She said she had unfinished business, but I didn't understand what she meant. She said I had to help, but every time she started to tell me, her voice got soft and disappeared. The doctors have not figured out what I have yet, so I lay here wondering if I am going to die.
Mother returned today; she didn't say anything; she just sat there and watched me sleep. Mother hadn't said anything for a few weeks now. I'm getting worried that something will happen to me or that she has lost hope in me. Suddenly, mom reached down and whispered in my ear.
She said, "Son, you have to go in the woods and find a white and blue flower; it will slow the progress of this disease; when I figure out the rest, I will tell you; until you find it, I will be gone." She started to disappear but kept saying, "Go, son, go"
The following morning I asked to go out. They allowed it. I was terminal; what could they say? I searched till late in the afternoon. I went back in; I was getting tired. Mother didn't come back that night. I went back the next morning, and believe it or not, I found the flower. I took it back and waited for mother to show up. Around 10:30 she came and congratulated me on finding the flower.
"Son, now you must eat this flower with honey."
"But, mom," he interrupted
"Don't 'mother' me! If you want to get better, you will go to the hospital kitchen, and you will get the honey. It is in the second cabinet, third shelf."
"Okay, mother."

"I must go now."


"Mother, no please, do not leave me."
"I must, now go find that honey. I love you son"
She left me, and I went to get the honey from the kitchen. As I was wandering the halls, I almost got caught. I ran to the nearest door; as I went into the room, there was a little girl who thought that I was there to talk to her. So I did, then I was on my way. It took me a while to find the honey, but as soon as I got it, I ran back to my room as fast as I could.
I mixed the honey with the flower in a little mixing bowl that I had taken from the kitchen. The taste was horrible, almost like cough syrup. I ate this nasty stuff. Mother returned this time in the morning. She thanked me for doing what she said. Soon enough I started getting better, slowly. It was a "miracle", or so they said.
Three months later, they let me go home. I had to live with my grandmother because my mother was dead, and my father had walked out when I was only four. The only memories I had of him was when he was drunk. Mother always told me not to grow up like him, and if I had a wife who only liked to party that it wasn't worth my time. Therefore I have feared getting in a relationship. But now that I have gone through this experience, I think that I will get married.
Grandma was very proud of me when I graduated collage, and she was happy with the girl that I chose to marry; her name is Jennifer. Jennifer has blue eyes, blonde hair, she has a great completion, and she looks as if she is a goddess. Jennifer is a model/ designer. She has came a long but now her career has to be at home, and she cannot model for a while because we are now expecting a baby boy; his name is going to be Christian Taylor. We have four months to go.
Now, one year later we are going to see grandmother. Christian can walk now; he has learned to say "Momma" and "Daddy." We are hoping that by the end of our visit he will learn to say "Nana." Christian looks like his mom in almost every way except he has my green eyes and my small ears.
When we drove up to my grandmother's house, she greeted us with a welcoming hug. She tried to take little Christian, but he refused, though we had awakened him up from his nap. Later when he woke more, he went to his grandmother; he was so thrilled with her he thought she was the best lady in the world because she gave him cookies and milk all the time. He almost never wanted to leave her except when he was tired.
Sadly our trip had to come to an end, we bid grandmother good-bye. As she walked us to the car little Christian started to cry, he knew we were leaving. We kept in contact with grandmother. Unfortunately, grandmother died of a heart attack only three years later. Christian was so sad for a very long time. He now understands that God told her that it was her time to go. We all have our time. That much I know.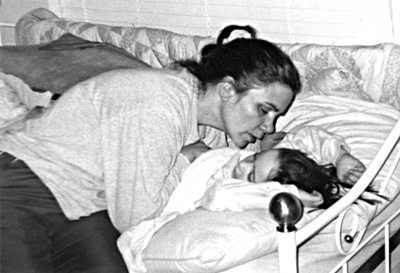 © Jessica T., Highland Village, TX