Commit for Life
January 12, 2018
As I sat on the cold leather seat, my eyes looked around the other fellow students waiting to talk with some of the people that work. A man in blue walked toward me, asking me if I was nervous. I said a little, and he reassured that is natural to feel that since it was my first time. He atoned that the pain is like a shot, a little sharp but very temporary. I relax a little, but I still felt uneasy, and my heart had a weight on top of it as if it won't get off until I said I don't want to do it anymore or that I go through this. But my mind tells me that I need to do this, some people would need it, like people with leukemia or in the emergency room from a terrible car accident. As the man wrapped my top elbow with athletic stretchy tape and finding the place for the vein, I turned my head and braced for it. I felt something, nothing painful but as if a straw went through my flesh. I turned back and found the tube with the needle becoming red, and the pocket that was just below of me started to go side to side like those rides in amusement parks where the ship go front and back. My heart went ease, I relax on the leather seat, listening to the beeping and talking of the workers at the driver's seat.

I started to donate blood for the Gulf Coast Regional Blood Center a few months after my birthday. It all began when a group of people was sitting on a desk in the cafeteria. One of the assistant principals announced that there is a blood drive that is going to happen in the few days and if you wanted it, schedule an appointment with the people on the desk. When I heard, I was hesitant since I remember my father who also donated blood called the people who call him for any future donations "vampires." But, since I felt like it would be something to add to my college resumé, I signed up for one in my last class. They gave me a piece of paper and told to follow the instructions before I donate which said to drink plenty of water, intake a lot of sodium, and be sure to sleep well the night before the donation. At that time till the donation, I wasn't paying much attention to being nervous besides following the instructions. At that time, I walked to the blood drive, and I felt weird as if I was about to go on stage for a performance. I got into the truck, answered all the questions that they had, and then I was to donate. The donating wasn't long since I was just donating one pocket. While I was donating, I got to eat snacks like Oreo's and chips, and drink juice and water. I got to have a t-shirt with the quote "Commit for Life" in front and the organization's name on the back. After the pocket was full of my blood, the same man in blue took out the needle and wrapped my wound completely. Then, I had to wait for 15 minutes so that I won't faint while coming back to the class. At that time, I felt relieved to do it just to help at least 1-3 people.

After I donated my blood, I was talking to my school librarian about giving blood, and when she heard that, she wanted to show me something. As I went with her to her desk, she had a picture of her daughter with her two grandchildren. She told that her daughter had leukemia, so she needed to have blood transfusions every week. She added that if it weren't the people like me that spend some time to donate just some blood, it saved her daughter and now she had two beautiful grandkids. I thought, I never knew that even my blood that I gave could save a person that might next to me or my loved one. I felt humble, yet grateful that I was able to donate my young blood for those that need it much more than me. That memory encouraged me to try to give blood at least three or fewer times a year. It opened my eyes that donating blood is more than getting an ornament for the graduate cap; it was about that person that needs blood so that they can live with their families and won't worry if they'll die tomorrow.

When Hurricane Harvey struck Houston, the demand for blood raised that in November, I donated two full pockets of blood at a church. It took a lot of me, but I felt satisfied that others will get the blood they need. The funny thing was that I was the only teenager that donated blood, most were adults. It shows that even teenagers do care about the society and their actions can turn them into leaders of society. I am glad that I had the chance to donate blood because I can know that someone will have the opportunity to live the life that they deserve, just like the librarian's daughter. I highly encourage all teenagers that are at least 17 years old to donate once, and it will change you for the better.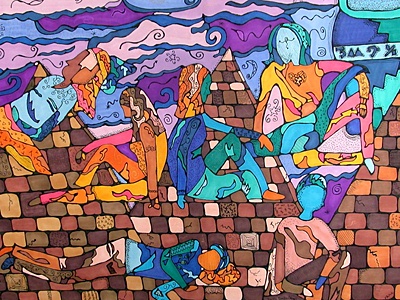 © Katie V., Gainesville, GA