The Anger Cave
December 14, 2013
I hugged my knees to my gut, locking them in doggedly with my linked arms. My bones juddered violently as the thin blonde hairs on my arms and legs stood upward. I swallowed the pungent taste of blood, probably from my teeth chattering so uncontrollably against my chapped lips, and tears. Hot tears that stung my cheeks. The brittle rock wall pressed into my spine when I rocked back and forth, clanging against each vertebra. I felt my health and consciousness deteriorating as the darkness besieged me, suffocated me. The dense, rounded walls closed in on me and the thin streak of daylight that had broken through the obscurity was almost completely faded. Another minute and it vanished. I had been there for half a day. My heart hammered my ribcage in an aggressive battle of panic and terror, and the cloud of my heavy breathing blurred my last hold of vision into shadows. Sweat trickled down my entire body, dampening my muddy shirt and colliding with the shivers.
The drumming of my hiking boots against the rigid ground harmonized with the grumbling of my tetchy stomach, the entire chorus reverberating off the walls. I tried again to fumble through the dirt and blood- splattered bag for a granola bar, before realizing that Bridget and I split the last one when we stopped by the river. Bridget. She should've been there. My fingers found the frayed, blue and purple string bracelet on my wrist. I traced the letters with my thumb, B-F-F. Bridget. She should've been there. That bastard.

The chorus was interrupted by a booming voice that penetrated my thoughts and threw me into a fetal curled position. His voice. "YOU!!!!" I tried to make myself disappear. "WHAT ARE YOU DOING HERE?!? HIDING?!? YOU THINK YOU'RE HIDING BUT THIS IS MY CAVE! THIS IS MY WOODS!"

I sank into the cold, damp ground, shivering with fear. "Wh—what do you want from me?" I coaxed the words out in a small, uneven voice that didn't belong to me. He laughed. The epitome of evil villain laughs: sonorous and prickly, resonating in the heavy space. I imagined what Bridget would do. She'd have a sassy, clever comeback that would show Him that He doesn't have the power. She'd be rolling her eyes at my vulnerability; flashing me that condescending look of disapproval and love. You're not His puppet, she'd say, take control. But I'm not Bridget. She wasn't there anymore. She was gone, and He had me in the palm of His hand. Now He was playing with me, running me in circles until He clenched His fist and squashed me under his fingers. I fell into my thoughts, trying to figure out how I got to that position.

~~~


"You better have a coat in that bag," my mom warned, blocking my direct path to the door.

"Mom, it's like 70 degrees out," I retorted, slumping my shoulders with the overstuffed hiking backpack, "and my bag is heavy enough."

"Mhmm," she shoved my North Face fleece to me, "you'll thank me when the sun sets and its freezing." Defeated, I decided that it'd be easiest to give her the satisfaction and stuffed the North Face into my bag, barely able to zipper it. I glanced at Bridget, who was waiting by the door, and stuck my tongue out at the inconvenience. She grinned radiantly and her emerald eyes motioned to the door.

"Okay," Mom gave me a one-armed hug and kiss on the head, "be safe."

"Duh," I returned her farewell and followed Bridget out the door. I thought we had finally gotten away, when my mom stuck her hand in the closing door and called to me.

"Be back for Dad's birthday party tomorrow at four!" I clenched my fists, my fingers leaving tiny arced imprints in my palm.

Through gritted teeth, I hollered back to her, "Got it!"

When we were halfway down the driveway and out of my mom's earshot, Bridget pinched my arm, breaking my icy expression. "Hey, stop it. This is our camping trip; we can deal with your asshole dad when we get back," she demanded compassionately as she yanked the car door open.

She was right, as usual. Bridget and I had been going on this camping trip since we were eleven, and I had known her for as long as I can remember. She was just always there. She knew me, too. She knew my infirmities, pet peeves, insecurities and nerves. My memories were her memories, and she had seen all the summits, chasms, and depths of me. She knew how to push my buttons and saw directly through my acts.

Bridget was my best friend and my nemesis, my savior and my downfall. She was the one person in the entire world who I would tell everything and anything, and the single most important person in my life. We could laugh ludicrously at things that wouldn't be nearly as funny with anybody else. We could cry uncontrollably for hours on each other's shoulders, and talk all day without the conversation getting boring. With her, it didn't matter what we said or how we looked, it was just us. She held me together, despite that she could break me down with how much she knew.

She understood how celebrating my dad's birthday was low on my list of favorite pastimes. Sitting in the passenger seat of her mom's minivan, I relived that day in seventh grade, where I went from clashing with my dad to being unable to look at him without biting my lip to stop from crumbling. The day where I grew from having a bad relationship with him to a nonexistent relationship with him.

~~~

It was the last day of school, and I stayed home. The idea was that the last day of school was essentially trivial on an academic level, and that it's only significance was to wrap the school year in a climatic box of goodbyes and yearbook signatures. And that is exactly why I hated it; I didn't have "besties" to hug or page long, sentimental notes to write. I wanted to get out of that school and enjoy three months without stepping foot in its painfully familiar halls.

My mom didn't support my decision not to go, but she accepted it and who I was. My dad did whatever was in his power to show me how much of a lowlife I was. It all came out, every disappointed thought he had about me. I swallowed his degradations. How I had no friends or social life, and how I hid myself from the world in the four confined walls of my room. I drowned him out with reminders to myself that I didn't want friends. I was content with my solitude. More than content, I liked it. I wanted it. Having "friends" meant having people in your life that could hurt you. You'd grow to care about them, craft memories with them, only until they sneak up and stab you in the back. Attachment was destruction. "Tell me, who is your best friend? Who is it," he demanded. I thought about Bridget, the only exception to the sadisms of friendship. The light amidst the repugnant human race. But I left his question empty. "Why are you such a freakin' loner?!?" He had said. My dad had said. And that part cut deep.
I felt a sour mix of shame and anger flush through my veins. The forces fought with each other, and the comforting thought of Bridget vanished as anger spewed out. I severed my tears and spat at him before slamming the door, "How could you even think about friends after where they got Justin?!?"

~~~


"Hey space cadet, you there?" Bridget waved a palm in front of my face, the other firmly on the worn leather steering wheel. "It's your favorite song." I blinked as she turned the nob of the radio. Scratchy static buzzed through the old speakers and officially threw me to reality. "Ah, f***—these piece of s*** speakers," Bridge irritably switched the radio off, "I knew I should have taken the Chevy." She glanced at me, diving into my stresses. I had no music to shroud my uneasiness anymore. "Oh well, I guess we're just going to have to talk to each other then."
I grinned, exhaling as we pulled into the empty gravel parking lot. "That's what the woods are for, right?"


~~~

That's what we did when we turned into the trail with our full water bottles and minds, talked. We complained about the unreasonable research paper Mr. Bates was having us do on the history of Europe. We laughed about our disastrous chemistry mishap earlier that week. We talked about Bridget's chemistry with Varsity Soccer Devon from homeroom. I told her how stressed out my mom was with her job, and she told me how weird it is preparing for her brother's wedding. It started off as a normal, traditional hiking trip. And now I was hugging the backpack crusted with her blood as I watched my own life slipping away.
"I'M SORRY, WHO AM I TO THREATEN YOU WITHOUT FORMALLY INTRODUCING MYSELF?"
I closed my eyes tightly, every part of my body shaking with weakness.
"BUT YOU FIRST, TELL ME—WHO ARE YOU? WHAT IS YOUR NAME, WHAT IS YOUR STORY?"
I knit my brow together and mumbled to myself. What the hell?
"I ASKED YOU WHO YOU WERE. AREN'T YOU GOING TO ANSWER ME?"
Something tumbled in my stomach, and I tried to squeeze myself closer together.
"THAT'S NOT VERY POLITE, IS IT? I'M JUST TRYING TO GET TO KNOW YOU."
Unfolding myself slowly, I began to search the darkness for Him, only finding my own breath. He could have been right in front of my face with a knife in His hand, and I wouldn't have been able to see Him.
"VERY TRUE, YOU DON'T HAVE TO ANSWER ME. BUT HERE YOU ARE IN MY CAVE WITH NO FOOD, WARMTH, OR COMPANION. AND HERE I AM, THE ONLY OTHER INTELLIGENT BEING IN THIS WOODS. WHAT HARM CAN A LITTLE CONVERSATION DO, DON'T YOU FEEL LONELY?"

I was silent. "YOU'RE USED TO BEING LONELY, AREN'T YOU? IS THERE ANYBODY BACK HOME THINKING ABOUT YOU? DO YOU HAVE ANY FRIENDS?"

Through clenched teeth, I grumbled. "I have everything I need."

"OH, THAT'S RIGHT. BRIDGET. WHERE IS SHE NOW? YOU DON'T HAVE HER ANYMORE."

"Yeah, cuz you took her!" I struggled to my feet, hunting the emptiness like a provoked tiger. "You killed her, you bastard! Where are you?"

He laughed again. That laugh. "BUT NOBODY ELSE, HUH? SHE WAS YOUR ONLY FRIEND. AND NOW SHE'S GONE, SO YOU ARE ALONE. AND YOU ARE TALKING TO ME."

"I told you, I don't need anybody!" I began to claw the air, scuttling around blindly for my tormentor.

"MAYBE YOU DON'T PHYSICALLY NEED OTHER PEOPLE TO SURVIVE. BUT THEY SURE MAKE LIFE MORE INTERESTING, WOULDN'T YOU SAY?"
I ran to where I thought the voice came from, flailing my arms in dogged rage. "No! They make life cruel, they take life!"

"DO THEY?" I darted in the other direction, now unsure where I was hearing it from. "ARE YOU TALKING ABOUT JUSTIN, YOUR BROTHER JUSTIN?"

That was it. "Bastard!" I dashed forward, ready to snap His neck. Instead of finding my hands around a human neck, I found my head bashing against a hard, rock wall. I plummeted to the dirt ground, the world spinning. I swear; the walls were physically rotating. I was at the center of an infinite, lethal vortex. Hot blood dripped from my ears as His voice bounced around them.

"POOR JUSTIN… HE WAS SUCH A GOOD KID. SO PURE, SO BENEVOLENT. SO GENTLE. ADORABLE, TOO. AND SOCIABLE. HE HAD GOOD THINGS COMING FOR HIM."

I wanted to slaughter Him. He had no right, no right to say anything about Justin. He didn't know him. I had so many interjections I was ready to bombard Him with. But the excruciating pain in my head thrashed the words and I dissolved into sobs.

I didn't want to think about it, I had pushed it into a corner of my mind for six years. But He took Bridget. He took the exception to humanity, the one who would never leave me. I had nothing left to trap those thoughts in the corner.

"HE HAD FRIENDS, DIDN'T HE? HE WAS POPULAR IN SCHOOL."

"Stop, stop it…" I tried, but there was no fighting spirit left.

MAYBE IT WAS BECAUSE HE WAS THE FASTEST RUNNER IN HIS THIRS GRADE CLASS… OR MAYBE IT WAS JUST HIS AMIABLE, BEAUTIFUL PERSONALITY. HE WAS SO MUCH BETTER THAN YOU, WASN'T HE?
I cringed, scrunching myself into a ball and burying my face in my knees. "Stop it, stop it, stop it!"

HE HAD A LOT OF FRIENDS. OR IT APPEARED SO, DIDN'T IT? YOU THOUGHT SO, YOUR PARENTS THOUGHT SO. HE THOUGHT SO.

I was a raindrop. I was going to drip down to the puddle of other, previously fallen raindrops, and had no power to stop it.

THEY BULLED HIM, THEY HURT HIM. THEY LAUGHED AT HIS CLOTHES, HIS FAMILY. HIS GRADES, HIS PAINTINGS. THEY LAUGHED BECAUSE EVERYONE LOVED HIM. THEY LAUGHED AT HIS DIMPLES, HIS FRECKLES.

They did, they did do that. His friends did that.

YOU REMEMBER, WHEN HE CAME HOME THAT DAY. HE DIDN'T WANT TO GO BACK TO SCHOOL, HE SAID HE HAD A STOMACH ACHE. HE CRIED, HE SAID HE WANTED TO DIE.

He told me, he told me he wanted to die. He was eight. He was beautiful.

AND HE DID. HE DIED. EVERYONE WAS SO SHOCKED, THEY HAD NO IDEA. REMEMBER HIS NOTE?
I could never forget his note. I kept it; it was always in my pocket.
THOSE PEOPLE WHO WERE SUPPOSED TO BE HIS FRIENDS KILLED HIM. HOW MESSED UP IS THAT?
"It is messed up! People are messed up! Everybody is messed up! You're messed up, leave me alone!" The laugh.
THAT'S WHY YOU DON'T NEED ANYBODY, HUH? YOU NEEDED BRIDGET THOUGH, DIDN'T YOU? THIS WAS YOUR CAMPING TRIP, SURE IS IRONIC HOW IT ENDED.
Ironic was a hideous word to use. It wasn't ironic, it was awful. It should not have ended that way.

~~~

We were sitting at our favorite viewpoint in the woods, a cliff that overlooked the plush trees and the silver river, only half an hour from where we always set camp. Bridget was telling me about school, how her friend Kristy was having an extravagant Sweet Sixteen bash, and Ali was going to sneak beers and wine from her brother's stash. "They miss you, you know. They all say how disconnected you are."
"They don't miss me," I rejected, "we're not even really friends anymore. They don't like me."
"You're wrong, they do like you. But they don't understand why you're not friends anymore… they always say how after fifth grade, you were just cold."
"I wasn't cold."
"Yeah, you were." She gazed deep into my eyes, pushing a golden wave to her shoulder. "After Justin died…"
"I don't like to talk about Justin, you know that."
"But you've let what happened to him control your life—kids are mean, okay? And he had crappy friends that pushed him over the edge, but you shun society over some bratty third graders!"
"Bridge, I don't want to talk about this!" I established in a warning, reluctant tone.
"You have so much anger inside of you though, it's really not okay! I try so hard to put up with you, cuz I know how much you've been through, but you're just so… fragile, and depressing, and—" I met her eyes, wounded, and tried to even my breath.

"Put up with me?"

She retreated, knowing that she struck a terminal nerve. "That's not what I meant…"

"Go to hell," I broke.

Her expression flattened and she stood up suddenly, stepping towards me imperiously. "You know what forget it; I'm not doing this anymore. It's true! You're impossible to be friends with!"
The intensity escalated and we were spitting fire at each other, pulling every card we had. She marched away in rage, and that's when it happened. I was watching her shadow as it blended into the tall shadows of the trees, feeling a painful sense of anguish, as if my favorite pet was hit by a car. But at the same time, an unfamiliar rage overcame me.
I saw another dark figure appear from the bushes, hurtling a large rock at her head. Her distant figure fell to the ground, and the grief and anger were traded for pure urgency. I fumbled to my legs; my joints rusted with shock, and sprinted clumsily to where she had fallen. I kneeled at her side, scooping her into my arms and holding my hands to the gash on her head. Then I tried to use my hiking backpack for added pressure, but it was a lost cause. The bleeding wouldn't stop, she was slipping away. Her empty, aloof eyes met mine and blurred away with my tears. I wanted to hold the eye contact, maybe say something. Sorry? It's okay? I forgive you? I love you always? If I was going to lose her for real, it couldn't be on such abysmal terms. But I closed my eyes tightly, the tears teeming down my flushed cheeks, and by the time I opened them, hers were glazed over. Her inert body rocked to the ground as my own arms fell limp from her bleeding head.
I stayed with her for over an hour, paralyzed with disbelief and despair. Then I walked back to our cliff solemnly, staring out into the perpetuity. Everything from the mosquitoes to the moss on the trees was there just as it was before, unaffected. Bridget's death didn't change how the woodlands existed each day, in perfect serenity. It felt unfair; she should have had more of an impact. I wanted the birds to be singing woeful prayers and the deer to be crying, the plants to be drooping and the water to be still.
As I pondered where to go next, a dark figure loomed to my side. I was oblivious to what it was and what it was doing until I heard the initial slap. Of a corpse against the ground. I saw her, tumbling down the cliff lifelessly, and abruptly looked towards the offender. It was Him. I froze. Stunned, I stared at His profile. It was a long moment before He moved. He turned His head gradually and eerily, working His eyes to me. This was Bridget's eradicator. I should have fought Him, I should have claimed the control at this very moment. But I ran. Ebbing to the trees, I didn't look back to see if He was following me. I just ran.

~~~

I thought about what Bridget would do now. In a cave, with a killer, being tossed around like a rag doll with my stuffing pouring out. She would not approve.
"I'm sorry I'm not like you, Bridget! I can't take control, I can't stop Him! He has control! I'm going to die!" My own voice bounced off the walls and struck me, folding me over myself.
The laugh. I'M GLAD YOU FINALLY FIGURED THAT OUT. BRIDGET IS GONE. AND SO IS JUSTIN. YET, YOU'RE STILL HERE. WHY IS THAT?
"I don't… I don't know…" I disclosed, broken.
WEREN'T THEY SO MUCH BETTER THAN YOU? SO MUCH MORE BEAUTIFUL, SO MUCH MORE WORTHY OF LIFE?
"I know… I know that."
TELL ME, ARE YOU READY TO DIE? ARE YOU HAPPY? IF YOU WERE TO DIE IN THE NEXT MOMENT, WOULD YOU LOOK BACK ON YOUR LIFE WITH A SMILE?
Accessing a mysterious source of strength, I brought myself to my feet. Happy? Am I happy? I clenched my fists and inhaled deeply, "WHERE ARE YOU?"
CLOSER THAN YOU THINK.
I lunged to the right.
WARMER, WARMER…
Reversing, I found my backpack and began rummaging through it with the utmost purpose. I found the faded handle of my switchblade, tucking it into my pocket discretely.
HA, HA—COLDER.
Charging to the corner, I had no qualm. I found His arm first, twisting it unforgivingly. The knife in His other, flailing arm just nicked my leg and I could determine where the rest of His body must be. With a thrust in the dark, I sent my switchblade into His chest. He was gone.
There was a moment of stillness just then in that cave. The capricious breathing stopped; the trembling ceased. I slumped down to my knees, melting into the cave floor. I experienced a sensational peace, detachment. All the suffering in the world around me dissipated. A sedated smile spread across my face as my thoughts broke free and floated upwards, leaving my body in its pool of hot, livid blood.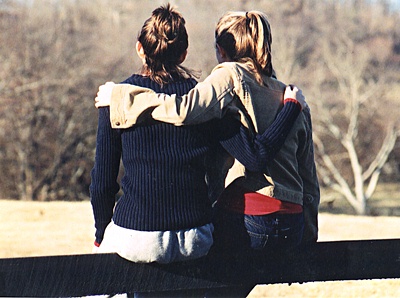 © Jaime M., Wichita Falls, TX