Don't Turn Around
October 16, 2012
She looks outside her window, knife in hand. Her breath shakey and hollow. She was alone. Well, for the most part. Salty, warm tears slipped down her cheeks as she prepared herself. Gripping the knife so tight that her fingers ached, she lifted herself up to peek through the window. . .
SHE NEVER WANTED THIS. SHE WANTED PEACE. SHE NEVER WANTED THIS. SHE WANTED SERENITY. SHE NEVER WANTED THIS. SHE WANTED AN ESCAPE. SHE. NEVER. EXPECTED. THIS.
When she caught a gimpse of the outside world, misty rain devouring her view, she saw a black figure. She colapsed, almost jabbed herself with the knife. She took in another skakey breath. Another. Tears endlesly slipped down her cheek. Wimpers burned her throat to escape. One more time, she thought. One . . .Two . . .
She crept up to look outside.
It was gone. Left, right. Gone. She lost it. Finaly. It's over. She smiled to herself and laughed. She turned to sit back down.
ITS NEVER OVER.
-pale face, large black eyes, dark rings, soaking wet, bloody grin and slit throat-
a scream. it's ((never)) all over.
.
.
.
Who do you think told you the story?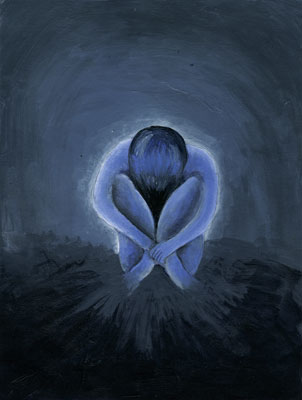 © Becky F., Sacramento, CA