The Last House on the Street
January 11, 2012
Every house on the street looked the same. Each house was clean white, with dark black shutters. Every house had a freshly cut lawn and a brand new gleaming white fence. Well, every house but one looked the same. The last house on the street was an exception. The house was much larger than the others and was red with a black wrought iron fence. Even the lawn was magnificently cut. The front yard was professionally landscaped and had a small pond. That same house had four large windows that were always covered with a thick black sheet, hiding whatever secrets the room held. Neighbors thought that the man living there was odd. His name was George Bloom. He was very tall, around six foot six and was muscular. George also had a receding hairline; any hair that was left was a dark curly brown. It formed tufts, scattered in an unorganized pattern. No matter how different George may have seemed, the neighbors couldn't help but trust him. He always had welcoming eyes and a confident voice, despite the fact that his life was shrouded in mystery. Little did everyone know that he had a deadly secret. 
?********************

I have always been different from the rest, I would rather read than go hang out with the other kids. All the kids but one treated me like I was a freak. So when I was driving home that damp afternoon getting her was only to easy. I drove to up her and smiled. " You need a ride home?" I asked. She nodded and got in. I started driving towards our homes and took a left and drove away, far away. She began to scream. Then the plan went into effect. I silenced her quickly and drove farther into the woods. Making sure no one could hear us. Once we got to the home I carried her downstairs. She was so light, she looked like a doll that I was carrying down to storage. Once she was downstairs I locked the door. I waited. Watching the minutes tick by as I waited for her to stir, then she did. I went downstairs and smiled. "Hello my love. How are we doing?" I went over and bent down next to her. She was shaking and on the verge of tears. I smiled back at her. "Why are you crying Emily? Have I done something wrong?" She screamed at me. I was mortified by my dear Emily's reaction. I had never heard her scream so loudly. "Please don't scream Emily." I said in a soothing voice, but she continued to scream."I said to stop screaming!" I hit her and ran up stairs slamming the door. I felt so bad for hitting my poor Emily. She was such a sweet girl. I couldn't understand why she was crying? Did she not remember me? No, I would make sure she remembered me. After all I had done for her! How could she forget! 
?
Later that day I brought her down food. I smiled and handed it to her. "Here you go Emily, eat up." She wouldn't take the food. "I said take it!" She still wouldn't listen. "Fine Emily! Be Stubborn! Let's see how long you last now!" I stormed up stairs and turned on the TV. I was horrified at what I saw. 
?
"Local girl Anna James has disappeared on her way home from school. The girl's mother says she is praying and hoping that the person who took her will bring her home safely. The girl was last seen on Lydius St., getting into a black BMW X5. Witnesses say she got in willingly and seemed to know the driver If you have any information, please call the Schenectady Police. An Amber Alert is in effect."
?
I turned the TV off. Why were they calling Emily by another name? She wasn't missing she was here with me, safe and sound! I sat in my chair and remembered one of the good times Emily and I had. 

"Come on George!" She yelled as we rode our bikes, "You are taking too long!"
I pedaled faster to keep up with her, until I crashed my bike. "Emily!" I yelled for her, she turned around and came to me. "Are you ok George?" She smiled at me and helped me up. "Be more careful next time." And with that we rode home. She hugged me before going to her house. "See you tomorrow George!" And she walked off. "Goodbye Emily!" I yelled back. 
?
I was awakened from that memory by a loud noise coming from downstairs. It was Emily. What could she be doing? I ran over to the door and listened to see what was happening. Why was Emily trying to get out? I ran downstairs only to see Emily trying to break a small window. I laughed and walked over to her. "Oh Emily, why are you trying to escape? You know I am only doing this so we can be together."  Emily looked me, with tears streaming down her face. So I bent down to comfort her and she slapped me. I grabbed her arm to stop her from getting away. 
?
"You aren't going anywhere! You promised you would never leave me and you did! I am not letting that happen again!" I quickly ran upstairs and locked the door. This wasn't going to happen again! I wouldn't let it. I remember the day Emily left me. I had never been so devastated. I remember that day like it was yesterday.
?
I told her how much I loved her and she laughed at me. I tried reasoning with her. She just kept laughing and once she stopped she said, "George, we will only be friends. I don't like you in that way." She looked at me with a big grin on her face. 
?
"No Emily, you love me. You are just too scared to admit it. I understand." I went to kiss her and she slapped me. I looked her, in her eyes. They were filled with disgust.
?
"George I don't love you. Don't bother coming over or calling again." And with that she walked away. I chased after her, pleading with her to take it back. Instead my dear Emily slammed the door in my face.
?
The next morning I awoke to the sound of car doors slamming in the driveway. I looked out and saw cops getting ready to break in. I ran down and grabbed my dear Emily and put her somewhere that no one would ever find her. I had planned incase this day had come. Emily wasn't going to leave me again. I could come back and see her whenever I wanted and she would always be there. I came upstairs just as they broke down my door. They pushed me to the ground and handcuffed me. The oldest officer whose name was James spoke first. 
?
"Where is the girl George?" He tried to reason with me, thinking I would give my Emily to him without a fight. I laughed at him knowing that would never happen.
?
"You will never have her. She is mine now. Emily is finally mine!" I kept quiet as they drove to the police station. They put me in a small room, that with gray concrete walls. The table was metal and so was the chair. There was a one way mirror facing me. I smiled at the people who I knew were watching. Detective James came in with a younger cop. I relaxed and smiled at them as they sat across from me. 
?
"You are in a lot of trouble Mr.Bloom, we need to know where Anna is." He showed me her picture. 
?
"Why do you keep calling her Anna? Her name is Emily. Emily Jacobs." I was starting to get angry at them for calling Emily by the wrong name. Why were they doing this?
?
"You know her name isn't Emily. Her name is Anna. Emily Jacobs died fifteen years ago." 
?
I shot up from the chair when he said that, I started to scream. "Stop lying! You know she isn't dead! She said she would never leave me! Emily would never leave me!" I started shaking and crying. No this wasn't true! Emily was alive and at my house waiting for me to come home. They were lying to me. Emily wouldn't do something like that. The younger cop laid a photo on the table. It was an older photo. The corners were bent and the picture was faded. No matter what had happened to the photo, I could tell it was my Emily. 
?
Then the younger cop spoke, "This is Emily Jacobs, she died fifteen years ago. We need you to tell us where Anna is. If you tell us maybe we can make a deal. All we need is the girl alive George. Help us, help you."
?
I smiled at him and shook my head. "You can go to my house, and check the basement. Emily is downstairs waiting for me. She will tell you herself that this is all just a big mistake." They both got up and left, I knew that they would come back and tell me this was all a big misunderstanding. I mean why would Emily lie to them, she knew I would never hurt her. A female cop came in with some water telling me that it might be a while. I thanked her and relaxed in the chair. I waited nearly four hours. The cops finally came back. They came into the room and didn't look happy. 
?
"We found her George. The medical examiner says you buried her. From what he says, she was alive at the time." He laid four different pictures on the table. I picked one up and smiled at it. My dear Emily had never looked sweeter.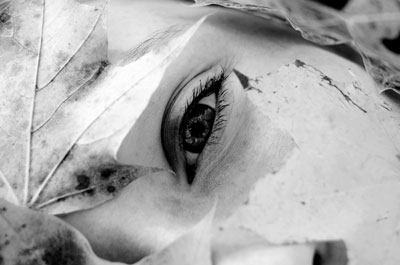 © Michelle K., Vancouver, WA