Greenhouse of Horror
December 14, 2011
Everybody in a small town in Maine wouldn't talk about what happened to those kids on Halloween night. But one of them can't get over it because she was a survivor.


"Tonight is the 30th anniversary." she explained.


On October 31st, 1981 it was a dark and scary night; about a dozen of teens between 15 or 16 were going to hang out at an old greenhouse that has been deserted for over 10 years. Some people think the old greenhouse is haunted, but that is just a myth. Or is it?


Meanwhile, a female soccer player named Mary Williams can't go to the hang out at the old greenhouse because she is grounded for throwing eggs at her teacher's car. While Mary is in her room she phone rings.


"Hello." Mary says.


"Hey Mary," her friend Susan responded, "it's me Susan."


Then Mary asked, "What are you doing this Halloween?"


"Some other kids from school and I are going to the old greenhouse to hang out." Susan answered.


"I'm going to sneak out of my house tonight, tell everyone I will meet them there." Mary said in a toned voice.


About 10 minutes later her mother walked in her bedroom, and she was gone. Her mother was really steamed. So Mrs. Williams and her husband get into her car and searched all over town for her.


Now Mary is at the greenhouse and half of the kids are gone. All she saw on the floor was a trail of blood. The whole place was empty as a cliff. Four of the kids pulled her out of there, and explained what's going on.


"What's going on...where's everybody?" Mary asked.



Susan told Mary, "I don't know everyone just vanished like invisible ink."


Then, Mary suddenly heard a loud scream coming from the roof of the greenhouse.


"What was that?" one boy asked in a frightened tone.


Then when the lights went out the boy dis appeared just like that, without a trace or anything. It was like a ghost a grabbed him or something.


"We got to call the Police!" another boy yelled

Mary ran into a phone booth to call the cops but the phone lines were cut.


"Someone cut off the phone lines." Mary said.


"What are we going to do?" Susan asked.


Then the loud shrieking noise came out again, and the lights went out again. And another boy and Susan disappeared also.


"That is it!" yelled Mary, "I'm going to end this right now!!!


"You hear that you supernatural force, by the time the lights go out you better watch your back because I'll be coming for you." explained Mary.


Then Mary got out of the greenhouse grabbed a lighter, gallons of gasoline, and she went down to the church wit a bucket and filled it up with holy water.


Now Mary is back at the greenhouse waiting for the lights to go out again.


"All right I'm over here come and get me." Mary says.


The screaming came back on and the lights went out again and the ghost was going after Mary. When the ghost was near Mary she was holding the bucket of holy water and she splashed it on the ghost. His skin was like a hot grill sizzling, And his skin was melting like wax. It turns the ghost was a gardener who died in the greenhouse years ago.


Then Mary took the gasoline poured it all over the place and went outside, took the lighter and burned the whole place down. The police found her 2 miles away from the greenhouse; the greenhouse is nothing put a pile of ash.


Now it is Halloween 30 years later. Mart was just driving all the way home she could never forget what happened on Halloween night.


"I can't take it anymore I have to do something." Mary said driving 92 Miles per hour.


Instead of thinking other options she made a sharp turn and drove her car into a lake. Nobody ever saw her again.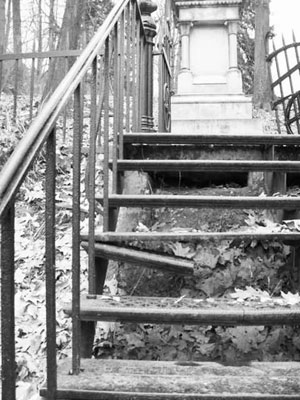 © Ginamarie D., Rochester, NY