I'm Glad You're Okay
March 24, 2018
Father and son sit down*
Father: Okay, I have a story... do you want to hear it?
Son: I love stories, what is about?
Father: It was in my high school years...
Son cuts Father off*
Son: Is it one of 'back in my day' stories?
Father: Not every story is a bore.
Soon: Okay, continue.
Father: So, my family and I went on a trip to England for my Mother's birthday. She'd always wanted to see the Big Ben in London. So we went and had a blast!
Son: And?
Father: And I have to skip a week of school, and there was this girl...
Son: Oooooh...
Father: And before I left, I didn't tell anyone were I'd gone. Went I got there she ran up to me with tears in her eyes.
Son: Whoa! That was a quick change in mood!
Father leans over on his knees and runs his eyes with his palms*
Father: Yeah, she hugged me like there was no tomorrow, and I asked her "What's wrong?"
Son: What did she say!
Father: She said that she though I commited suicide... I don't know why. Maybe because I was being bullied at the time, or cause no one knew where I have gone.
Son: That got a little dark...
Father: I held her head in my palms, and I asked her why she thought that, and she just said "I'm just glad that you're okay."
Son: Awe, that's sweet...
Father: The I kissed her, she was my best friend... an-and
Father stutters*
Father: I have no regrets
Son: Who was her? Do you guys still keep in touch? Was she you're first kiss?!
Father: She, is your Mother...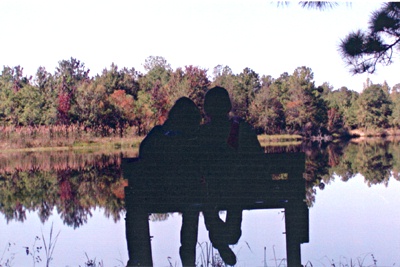 © Heather J., Slidell, LA