Preston (scene II)
December 15, 2017
Scene 2
Characters: PRESTON, MS. CORBIN, JOE, NICK, SAMUEL, MRS. GOODWIN
Setting: IONE CASTLE (IONE CA)
PRESTON is a homeless teenage boy that is looking for a place to go. The frame starts on him as he walks down a dirt road looking down and feeling distressed. He hears voices of children in the distance and looks up to see a large red-stone castle with children playing in the front yard. PRESTON sees a sign for the castle
PRESTON
(to himself)
Ione Castle; Shelter and Disciplinary School of Industry
PRESTON walks up to the front door and enters to find MRS. GOODWIN sitting at the front desk
MRS. GOODWIN
Hello sir! What can I do to help you today?
PRESTON
Uh… my name is Preston Wasley and I.. I'm an orphan; I need a place to stay for a while… if you'll take me
MRS. GOODWIN
Oh, of course, sweetie! Here, if you could fill in this form, you'll be good to go! If you have any questions, please let me know, I'm more than happy to help you.
PRESTON
Thank you, uhh…
MRS. GOODWIN
Mrs. Goodwin
PRESTON
Mrs. Goodwin, thank you Mrs. Goodwin
MRS. GOODWIN
No problem!
PRESTON sits down on a couch and fills out the form. He finishes and hands the form to MRS. GOODWIN as some of the boys from outside enter the castle (JOE, NICK, SAMUEL)
JOE
(looking at MRS. GOODWIN)
Who's this kid?
MRS. GOODWIN
Joe, Nick, Samuel, this is Preston, he's a new ward!
NICK
What's up man, welcome to Ione; the only five-star prison in the country!
(JOE, SAMUEL and NICK all laugh)
MRS. GOODWIN
You all stop that! Now is that a good way to welcome our new ward?
SAMUEL
Ahh, we're just kidding, kid. If you play the game right, you'll make it out of here alive.
MRS. GOODWIN
Boys, Preston is going to take the empty bed in your room. And please be nice! Nick, I'll tell Ms. Corbin that you won't be in the kitchen tonight.
NICK
I gotcha, Mrs. G… Let's go guys, we got ourselves a new roomie!
JOE, NICK, and SAMUEL lead PRESTON down the halls and to their room
SAMUEL
So, Preston, whacha here for?
PRESTON
(shyly)
I've been an orphan since I was twelve, and my foster home ran out of business, so long story short, I was wandering and found this place.

NICK
I feel your pain, kid, my folks died when I was sixteen, and I've spent the past two years here.
SAMUEL
What's your age?
PRESTON
Seventeen
JOE
I'm seventeen too… there, something in common already.
PRESTON
What are you guys here for… I'm sorry, I suck at names
SAMUEL
It's ok. Well, I'm Samuel, and, uhh, I had a bit of a run-in with the law, you see, I needed money, so I robbed a train station. Didn't get too far there now did I?
(they approach their room and enter while carrying on the conversation)
JOE
My name's Joe, and I, uhh, can become deathly violent, if you know what I mean
PRESTON
Whoa, so you meant it when you said prison?
SAMUEL
Absolutely! Most of the guys here have a record, but some are homeless, like you and Nick. We learn trades so we can do something with our lives when we get out of here.
JOE
I'm a mechanic, Nick's a cook, and Samuel's a farmer. What'd you pick?
PRESTON
Mechanic
JOE
Nice! I'll tell you what, kid, we're going to be great friends. And don't worry, I won't off ya.
(MS. CORBIN knocks and then opens the door to their room)
MS. CORBIN
Hello, boys! I see we have a new friend with us now! What's your name, sweetie?
PRESTON
I'm Preston
MS. CORBIN
Hello Preston! It's very nice to meet you! I'm Ms. Corbin, the head housekeeper here at Ione Castle. I was just coming to let you all know that it's time for dinner! We're having spaghetti and meatballs!
JOE
Ah, I'm starving! Thank you, Ms. C, Let's go guys, food awaits!
(ALL leave the room and the scene cuts to PRESTON in his bed and writing in a notebook. The scene cuts again to the dinner table. ALL are on camera, but the sound is taken over by the thoughts of PRESTON, who is uncertain about everything)
PRESTON
My first hour here has felt like the shortest hour of my life. Time doesn't feel real here; I can't explain it. These walls feel ancient, yet so young. And these boys, their characters are so raw and exposed like I've never seen before, and I've met some interesting people in foster care. Even the women, they are the most caring people that I've ever come across. Something is different here; there's a sort of static, electrical-like charge in the air. This whole place seems off. I walked all day down that road, and this huge structure seemed to just fall out of the sky and onto this hill. Ione Castle is in it's own little world; it's entirely self sufficient and doesn't need anything from the outside world. And to top it off, criminals and the homeless share the same roof. (Scene cuts to PRESTON still writing in his notebook) There's something dangerously wrong with this castle, and I will get to the bottom of it. But for now, I'll keep my guard up and won't let this bad energy get to me. I must sleep now, for I have not even the slightest idea about what tomorrow will bring.
(PRESTON puts the notebook down and goes to sleep)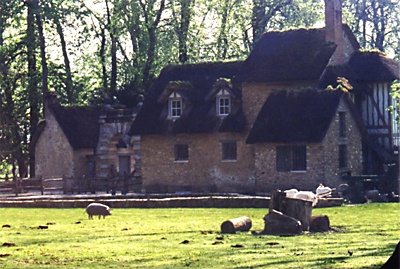 © Lendsey S., Duxbury, MA