Preston (scene I)
November 13, 2017
Characters: MRS. CORBIN, JOE, LUKE, NICK
Setting: IONE CASTLE (IONE CA)
JOE is a troubled teenage boy who was sent to IONE CASTLE to learn trades and receive education. LUKE and NICK are orphans residing in the castle. The boys are helping MRS. CORBIN, the head housekeeper, with her duties as part of their trade skills education. It is late at night and they are almost finished as they reach the basement.
MRS. CORBIN
Joe, dear, can you and Luke go dust and mop the boiler room for me? Nick, you and I are going to start putting everything away.
JOE
Of course, Mrs. Corbin. Luke, get the mop, I'll get the duster.
LUKE
Ok
(he gets the mop and him and JOE head towards the boiler room)
(whispers)
Why do I always have to mop? I hate mopping
JOE
(whispers)
Because I hate it more than you, and you hate dusting more than I hate it. It's fair this way.
LUKE
If you say so…
The boys reach the boiler room and begin to do their work. MRS. CORBIN is heard singing quietly in the background.
JOE
(While cleaning, he finds a rusted metal bar and other trash and sets them aside to dispose of later)
Man, I don't know how much longer I can stand this
LUKE
I know, cleaning should be a woman's job
JOE
Not the work,idiot…
(MRS. CORBIN is still singing)
Mrs. Corbin
LUKE
Mrs. Corbin!? She's the sweetest person in this whole place! How could anyone ever hate her?
JOE
(In a fit of rage)
Maybe you should shut your mouth!
LUKE
(concerned)
Whoa, calm down Joe…
JOE
(Cuts him off)
I can't stand this anymore! This place, these people, the crap excuse for psychotherapy, all of it!
LUKE
Wha.. psychotherapy? Joe, what exactly are you here for?
JOE
(hesitantly)
I… I killed someone…
LUKE
Oh my God, Joe…
JOE
(Backing LUKE into a corner)
You don't understand, Luke, you'll never understand. Hell, I don't even understand what I am. The shrink calls me a psychopath, but what does that mean? Am I broken? Am I a monster that should be locked away forever? Should I just die? God, I'm losing control. The drugs don't work. These people are making everything so much worse!

LUKE
Joe, calm down, it's ok…
(MRS. CORBIN is still singing)
JOE
(Screaming)
NO IT'S NOT!
(JOE grabs the metal bar and beats LUKE with it until he's dead. As the scene fades out, MRS. CORBIN continues to sing for a few seconds)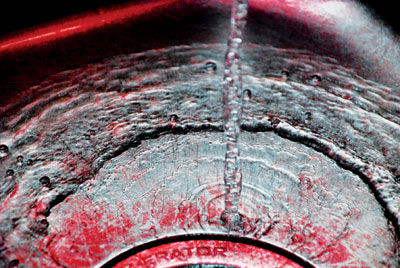 © Hannah B., Princeton, IL