The life of an orphaned teen
June 30, 2017
CHARACTERS
BLAKELYNN 18 years old. An orphaned teen, raising her sister and living with her boyfriend.
CORA 7 years old. An orphaned child being raised by her sister and her boyfriend.
CAMERON 20 years old. Dating Blakelynn, and living with her and her sister.

 

    SETTING
An old log cabin farm house in the country. Scene 1 White door, dark purple walls, cherry hard wood floor covered in stuffed animals and toy animals, an oak framed twin bed with white sheets with brown and blue arrows along with white and brown camouflage blankets, and a black painted wood door jamb to her walk in closet. Scene 2 white walls, cherry hard wood floor, dark purple fuzzy rug in the middle of the room, left wall covered in clothes, right wall lined in shelves and shoes, back wall with a dark wood vanity and a white plush vanity bench along with mirrors. Scene 3 black walnut hard wood floors, oak cabinets and marble counter tops, white deep double sink, white wood counter island with marble top, long wooden table, oak table chairs and stainless steel kitchen appliances.
      TIME
Early September. Early morning. Early 2000's
SCENES
ACT I

Scene 1  Cora's room Early morning
Scene 2 Cora's closet Twenty minutes later
Scene 3 Kitchen Late morning


    ACT I
    SCENE 1
(A soft knock on the door)
(Blakelynn walks in quietly, maneuvers around the mess and sits on her sisters bed)
(She softly shakes her)
BLAKELYNN
(Whispers softly) Cora it's time to wake up. You don't want to be late on your first day of first grade do you?
(Cora shoots out of bed in excitement)
                                             CORA
No, I got to get ready fast.
CORA
(With pleading eyes) Blake can you pick out my outfit and do my hair like mommy used to?
  
BLAKELYNN
(Smiles sadly) Sure, you go get the hair supplies and I'll pick out your outfit, then we can go have breakfast with Cameron. How does that sound?
CORA
(With a lit up smile) Ok sounds like a plan
(Cora runs off and Blakelynn walks into Cora's closet)
ACT I
SCENE 2
(In the closet Blakelynn rummages around until she found the perfect outfit)

BLAKELYNN
(Shouts) Cora! Come get your clothes and change.
(Cora runs into the room)

CORA
Ok.
(Once dressed Cora goes back into her closet so Blakelynn can do her hair)
BLAKELYNN
(Points to the vanity bench) Sit
(Cora obeys her sister happily)
  
BLAKELYNN
(Brushes and braids Cora's hair) Where are your hair bows at?
CORA
In the top drawer on the left with my hair ties.

(Blakelynn reaches around, opens the drawer and grabs one)

BLAKELYNN
(Ties the bow in Cora's hair) Ok, there you go munchkin. Now finish getting dressed and meet us downstairs for breakfast.

CORA
(Hugs her sister) Ok

(Blakelynn heads downstairs while Cora finishes up)

ACT I
SCENE 3
(Blakelynn walks into the kitchen and sees her loving boyfriend cooking)

CAMERON
(Turns around and smiles) Hey! You hungry?
BLAKELYNN
(Smiles back) Hey! Yea I'm starved

(Cameron and Blakelynn share a tender loving kiss)

(Cora rushes down the stairs with a smile on her face and walks into the kitchen)
  
CORA
Good morning Cam.

CAMERON
Morning miss Cora. You hungry?
CORA
Yep.
BLAKELYNN
(Looks at Cora) Why don't you help me set up the table so we can eat?
(Cora smiles and nods. The two then grab the needed supplies and set the table)
CAMERON
Breakfast is ready
(Cameron places food on everyone's plates)

BOTH GIRLS
Thank you Cameron.
CAMERON
Your welcome.
(Breakfast was eaten, while a conversation was happening)

THE END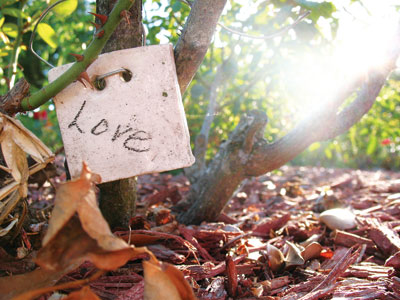 © Danielle L., League City, TX