Flowers and Other Delicate Things
May 4, 2012
(Greenhouse section of Target. LILI, 31, delicately fingers white flowers. Beatrice, 54, rummages near the checkout counter, only casually looking up from her work.)
Beatrice: What can I do for you?
Lili: What? Oh… just looking.
Beatrice: Don't forget about the sale. Buy two bouquets and get the third free. (LILI looks bored) Yeah, I know. Real original, right? Been workin' here thirty years and they haven't changed it since I started!
Lili: I hate flowers.
Beatrice: HAH! Me too! I thought I was the only one in this d*mn greenhouse—
Lili: They don't last…and then all you've got is a withered skeleton and a rotting scent.
Beatrice: Well, hon, if you plant a whole garden—
Lili: Then I raise the casualty count! It's f***ing disgusting! (Pause.) Sorry… Lili? (offers a hand)
Beatrice: Beatrice—Bea. I like you.
Lili: I used to like them, but they're so sad.
Beatrice: (tapping at register, then looks up in realization) …oh.
Lili: ALS.
Beatrice: Is this some kind of riddle? I never liked word games… Now my husband, Murhpy, don't even get me started—
Lili: Amyotrophic lateral sclerosis. In a matter of years, maybe less, I'll be like this: just another inanimate, withering flower. Greg will tend to my emotions before the divorce; Mom will tend to my decay after it.
Beatrice: No, no. You listen: that's no way to live!
Lili: You don't wake up every morning having to check which of your limbs still function. You don't know what it's like—
Beatrice: What, to live a cliché? God, you dying sort must come pre-scripted or something! Do you know how many people wander over here every day, confessing their fears and their frustration and all their woes? (Pauses. Collects herself.) Don't stop living before it's not an option.
Lili: I left a note. I left my husband.
Beatrice: A little torture before the final blow, eh? I like your style. Lemme ask you a question… you a poet? Those dramatic words are awfully pretty.
Lili: Yes. What? Hey, are you even listening? You're missing my point!
Beatrice: Am I? Listen, Shug, if you don't mind me saying, you're being just a tad melodramatic. Look, let me fix you some Cocoa.
Lili: (exasperated) Isn't this the greenhouse section?
Beatrice: Mama Bea's always prepared. (winks, rummages)
Lili: (Appraises her.) Fine.
Beatrice: Now, your husband. Don't you leave him.
Lili: If I stay, it'll kill him.
Beatrice: If you leave, you might as well kill him yourself.
Lili: You know, my lawyer sees the logic.
Beatrice: You mean the paycheck? Oh those lawyer types have got one thing on their mind—and I'll tell ya what. It's sure not Mama Bea's cocoa. (mutters to herself) Though it might do them some good…
Lili: Hi! Lawyer. Hello?! Bea! Focus! (Ringtone plays. LILI scavenges through her purse then digs out her phone and stares at the screen.) It's him. (She opens the phone. Then, gently.) Hi.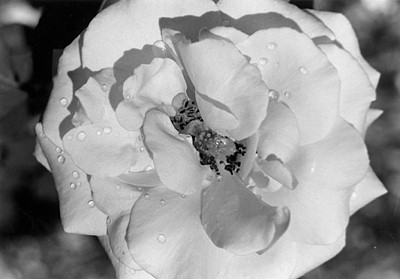 © Kristin O., Quincy, MA