The Prophetess' Daughter
April 27, 2018
"What do you remember about your mother?"
It was always the question Sybil was asked by everyone she meets. Everyone seemed to have known her mother, but she did not. She never got to see her mother because she had died from being ill when Sybil was only one month old. Her mother's pictures were put into storage away from the view of everyone. Her mother was considered to be the most known woman in town. Rumors always spread about how her mother was. Sometimes pure, sometimes appalling. Sybil was sometimes even asked if she was actually her birth mother. Sybil was always told how beautiful she was. Everyone loved it when she smiled or when gave her small, shy laugh. Everyone loved how her brown hair framed her face so perfectly and how her luminous green eyes got even lighter and brighter when she laughed.
Rumor has it that her mother was actually a hideous witch in her town. That she uses her powers to draw men into loving her and going home with her as well. Her mother was said to have ratty black hair and vibrant green eyes that could kill a man with one glare. The truth was that her mother was exceptionally pretty, at least in her dreams. Her father always told Sybil that her mother was as bright as the sun everyday. He also mentioned how excited she was when she found out she was carrying her first and only child. Her mother was a psychic, she read palms and saw what the future holds for those who came into her shop. She was considered to be the most considerate person in the town. She would always helped those around her without any knowledge of it. Some appreciated her, but some were also jealous by how kind she was to everyone.
Sybil couldn't take the rumors anymore. She wanted to know the truth about who her mother was. She decided to go to the storage room that held some of her things; pictures, journals, even certain blankets she made. Sybil hesitated, had she unlocked the door and stepped inside. The room was filled with dust and still air. She planned to not waste her time and went to the first box that had read her mothers name. In the box she found journals and frames that were wrapped in paper.
Sybil open one of the journals and started to read what was inside. She realize similarities in their way of writing. She smile at the comparison of how they would sign off at the end of each entry. She felt closer to her mother than she ever did before. She put down the journal and grabbed one of the covered frames. She carefully unwrapped the paper and held the picture with outstretched arms. Her dreams were correct, she was marvelous. Her hair was just a deep brown, not raven black and her eyes were vibrant, not at all deadly. Sybil could tell how good her mother was just by her how she smiles at the camera with kind eyes as she kept the baby Sybil secured in her arms.
Sybil was easily started by the thud that came from the corner of the room. She was so fixed on the photo that she didn't think anyone would have come into the storage room. She started to feel uneasy in the supposedly empty room. She heard shuffling in the room and she began to look around. The only words she heard was:
"Hello, Sybil darling." A familiar voice said. "You have no idea of how bad it's going to get".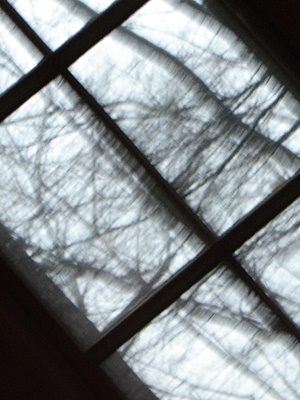 © Claire H., Boxford, MA