The Fox's Tale (Tail)
August 22, 2013
A long time ago, the fox had a big, bushy tail that was completely red. It was furry and easy to move, which made it a perfect paintbrush. The fox loved to dip his tail into many colors to make rainbow art for the other animals of the forest. First, he would cover his tail thickly with red clay, blueberry juice, and green moss. Then, he swished and swirled his paint-covered tail across rocks and tree trunks to draw bright red flowers, sparkly blue water, and pretty green leaves. The fox was very happy spending his days painting with his red tail.
However, the fox's artwork was always destroyed. Some days, rain would fall from the sky and wash away his paintings. The fox was so sad that all of his paintings went to waste after all his hard work. No matter how hard the fox tried, there was no way to stop the rain. The fox begged Mother Nature to help him create a painting that would last forever.
Mother Nature heard his cries and agreed to help the fox. Mother Nature lived through the fox's paintings and would keep them whole through the rain.
With a tinkling sound, she waved her hand across the sky, and a light shower of powdery white stardust rained down. The fox saw the shining white stardust piled like fresh snow on the ground and knew that Mother Nature had lent him a helping hand. He dipped the top of his tail in the wonderful white stardust. With the tip of his tail covered in the magical stardust, the fox dotted the black blanket of the night sky with beautiful twinkling white stars.
At last, the fox had created a painting that would last forever. The stars in the sky were placed high above the world where they would be untouched by the rain. The white stardust, being a very powerful magical object, would never be rubbed off the sky, and it would never come off of the fox's tail. That is why today, all foxes have a white tip on their red tails.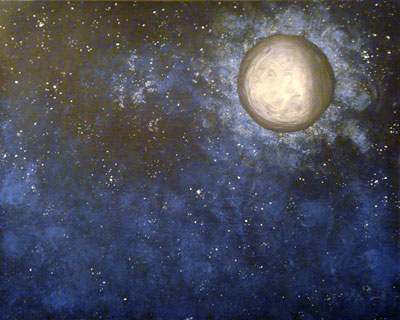 © Allison H., Vancouver, WA