The Demise of Humankind
January 22, 2013
No one on earth knew what had hit them. First, their email alerts from Facebook stopped coming. Then it was suddenly impossible to Google anything. Then there was the demise of the internet, followed closely by tv and cell phones. Many suspected foul play, while others thought the end was nigh, and many more thought this was the last they'd see of their Skype friend from Zimbabwe. It was a time of panic for all. No one knew what the date or time was, how on earth to get from their house to downtown, or how to make a sandwich properly. That night, everyone went to bed in a timely fashion, because there were no funny cat pictures to look at, reality tv shows to watch, or Pinterest pages to browse.
The next day was worse. Girls had to stalk boys with binoculars, which was terribly inconvenient compared to the social network method. With no Biggest Loser reruns to watch while munching butter popcorn, more and more people found themselves.... dare I say it?... OUTSIDE. Children in class actually listened to their teacher, since they weren't too busy texting the person sitting next to them. Everything was in chaos.
But there was a hope, a light at the end of the tunnel: when the night came, the moon would come out, and it's glow would bring a soft light to the earth, similar to that of the television screen, the laptop monitor, and the cell phone. So people all over sat on their couch, staring out the window, their gaze fixated on the moon. It was comforting for them, being able to burn their eyes and get headaches just as if they were using technology. However, it still wasn't the same. They stared and stared, until the sun came out, and then began the process of putting up with the fresh air and sunshine all over again.
Thus began the demise of humankind.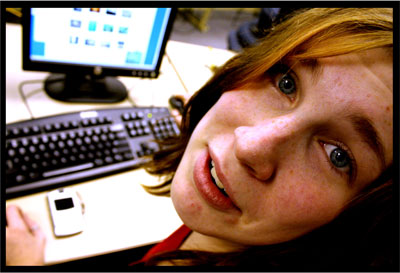 © Sam W., Bellevue, WA