Paroxysm
October 30, 2012
Nothing is clean in this place. It started from the center—something hatched there. It tumbled from its scaly shell in a hideous squirm, unfurling leg after leg, putrid and slimy. It rose from its membrane, naked and newborn, an incarnate of evil.

"Seek another," it commanded through the hellish gleam of serrated teeth.

I fled from that sacred place and searched for somewhere to hide. The atmosphere thrummed with vigor that kept me warm and bright, but soon it began to fade, replaced by the muffled arrhythmia of disease.

Great rivers of roaring red became polluted with black ichor, swimming with creatures of the murkiest swamps. Legions of tentacles broke the caliginous surface, viscous and writhing for prey. All around me columns of the purest white mineral were crumbling; plagued by rot and rust. Tumors grew from every corner like jagged crystals of black ice. They were alive and they were moving; wicked urchins tearing everything to ribbons.

I took to the lungs and found them infested with ghosts of swirling gray. They meandered about with shifting smiles, dancing lazily in their carcinogenic splendor.

"Seek another," they said in thin, haunting wisps. "Or soon become breathless."
I took to the mind and found a black widow spinning her gossamer between folds and wrinkles. She navigated her silky tightrope in a predatory saunter, fangs sinking deftly into delicate gray matter. They emerged lucid with the essence of knowledge and dreams.

"Seek another," she advised with saccharine cheer. "Or soon become thoughtless."
Jessica Bowers
I took to the heart and its rich red warmth. A serpent with scales forged from midnight and misery slithered from chamber to chamber in a hypnotic loop. Its host darkened like an ugly bruise with every cycle.

"Seek another," it hissed with its tongue; the devil's red pitchfork. "Or soon become heartless."

Faint and fading, I took to that once so sacred place and fell at the gnarled feet of my successor.

"I will seek another," I said at last, "for I have been sold away."

And still I seek; a tiny sparkle drifting through the cosmos, longing to find warmth again. Reach up with cradled fingers and guide me home.

I won't let it take you.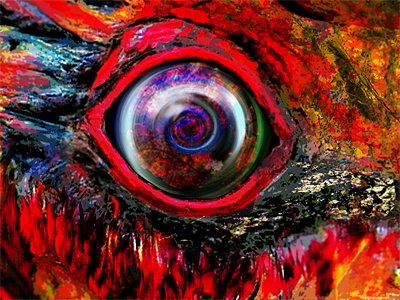 © Tom M., Philadelphia, PA