Sleep
March 9, 2011
I padded across the hallway, holding my dress a half inch off the ground so I wouldn't make any noise. My crown was under my pillow, the thousands of layers of petticoats had been peeled off and stuffed under my mattress, and my ridiculous high heels had been replaced with a comfy pair of felted slippers I slinked like a jungle cat, oozing from darkened corridor to darkened corridor. I kept my breaths quiet and shallow, and stayed pressed against marble pillars whenever anybody walked by.
I was on a mission.
I paused for a moment to tie my brunette curls back with my dress's sash. I leaned against the wall and though about what was going on.
In the morning it would be the dawn of my sixteenth year, and something was strange. People were scared. Laws were proclaimed, but I wasn't allowed to hear them. Things were being locked in closets, and the keys were burned. No one was going about daily life: doing embroidery, eating meals, gossiping...all was dead silent, and the usually relaxed atmosphere was taut as the strings on a minstrel's guitar.
I continued forwards, counting the rooms until I found the right doorway. It was carved elegantly, with the head of a roaring lion guarding the royal coat of arms.
I pressed my ear against it until the muffled voices from inside became more distinct. I heard the sound of slow, steady footsteps, as if someone were pacing.
"We can't let her know. She'd be scared. Go into panic," the grouchy voice of my father declared, the same way he declared the issuing of a new law, or the choosing of a new heir. I listened harder. My mother chimed in.
"But it won't happen. They were put into storage. We've been careful"
"When a fairy says something, it happens," he paused, "especially an angry one."
"The needles are all gone!" my mom repeated, angrily.
"But what if they ALL aren't? What if there's one, and we haven't found it yet? If it pricks her, and it will, that's a century of sleeping! A century!"
I turned and ran, not caring if my heavy footsteps were heard echoing through the halls.
***
I stared out through my bedroom window at the sunrise, unseeing. I didn't comprehend what had just been said. I looked at the stolen embroidery needle in my hand, grimly.
If it was going to happen, for sure, I didn't want to fear it. I didn't want to be waiting for and dreading the moment when I'd prick myself. And then sleep.
It needed to happen now, and then in a hundred years I'd finish the sunrise, finish my breakfast, and live the rest of my life with as much joy as I could.
I brought the needle towards my hand, then faltered.
Would I age when I was asleep? Then I'd be dead, and never wake up, and in that case I should just grin and bear it and pretend I was still blissfully ignorant. But if I would die, then there would be no point in a century of sleep. The fairy would have just made me die. And that aside, would my parents sleep? Or would they grow old and die before I woke up?
I set the needle on my bedside table. I didn't want to sleep yet. I wanted to enjoy today, and then....well....what happens happens.
I stood up, and my foot got entangled in the bottom of my dress I pitched forward and stumbled, reaching out for something to grab onto. My hand found my bedside table, and I clasped it tightly.
The needle plunged into my flesh.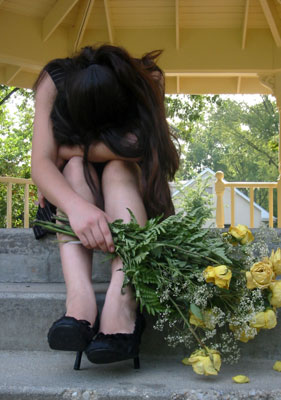 © Martha V., Morton Grove, IL