Burning Life
July 17, 2010
"The fire is within you," the voice had told her. It was same voice that had warned her of her father's betrayal and her mother's death. It was the same voice that comforted her when she cried alone at night, wanting to be held in the arms of someone who cared for her but didn't exist. The same voice now echoed this cryptic message in her head.

She gritted her teeth and glared at the unlit candle before her. She sat in front of a coffee table, her legs crossed in the style her yoga teacher had taught her months ago.

What does Henry mean? 'The fire is within me?'

At first she had ignored the voice, told herself it was too much work and not enough sleep and relaxation. But the voice had been right. Her father had left, run off with his secretary, abandoning his teenage daughter and wife. And the voice was right again when it forewarned her of her mother's car accident that she would not survive. All the while, she had been sleeping and relaxing her butt off. The voice had been trying to protect her, warn her, preparing her. She had as first ignored and paid the heavy price.

Whether she liked it or not, she trusted the voice now, more than she trusted herself. She had been wrong countless times. The voice – which she had nicknamed Henry – had not been wrong once.

So she now sat in her dormitory room, her roommate fast asleep, sitting with an unlit candle before her. She had tried every night for the past week to get the candle to light. She thought this was the surest way to please Henry and to stop him from nagging her. He would pop into her head and tell her "the fire is within you" during lunch, class, dreams, studying – everywhere, never giving her a moment's peace.

"The fire is within me…the fire is within me…" she said in a whisper to herself, as if saying it enough would make her believe it and make it true. She closed her eyes and breathed in deeply.

Inhale. The fire… Exhale. Is within… Inhale. Me… Exhale.

She felt a sudden surge, a jolt of energy, of life. She felt like she could do anything. Climb the highest mountain. Ace the hardest test. Bring her mother back. Rewind time and stop her father. She caught hold of the feeling and held on tight, like she was trying to keep hold of a runway dog.

Inhale. The fire… Exhale. Is within… Inhale. ME…. Exhale.

She heard a small crackle and her eyes opened wide. The candle burned brightly, glowing. The light bounced off the red wax. She brought her face closer and felt its warmth. She had the strange feeling she had created life, a whole world. One without hurt or pain or loneliness. The fire pulsed like a beating heart and she basked in its glory.

"I did it, Henry," she murmured. "I can't believe I did."

There was a pause. And then the masculine voice in her head answered. "I always knew you could, Charlotte. Now go to sleep. It's been a long night."

She smiled and, agreeing that it had been a long night and sleep sounded just so wonderful, blew out the candle.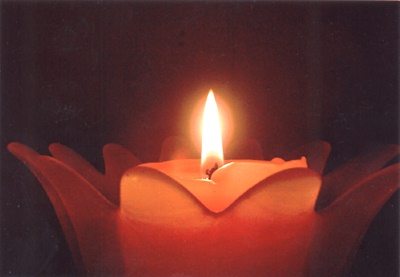 © Sayda C., North Bergen, NJ