LOST.
June 6, 2017
"I have lost enough and I don't mind loosing anyone else."
Probably the words you want to say to yourself when you have lost someone really important in your life. That one person who you want to be there for you and with you at anytime of the day. It hurts when you see that person leaving in front of your eyes and all you can do is, see them leave without uttering a word. You want that one person to be happy with whatever they have and whatever you can give them just to see them smile. You become selfless, you want to protect that person. You wait for their message which you know will never come. You just hate everything around you and how bad you want everything to just end. You are so done with life but then life gives you some more rocks which you can't bear and you end up bursting tears in the bathroom, thinking where you went wrong. All you could think about is meeting that person, talking to that person and mending the broken pieces of your heart. You start to realise that you are better off that person but then one night you recall those dark memories and you just want to be with that person irrespective of what you feel.
My dear friends, you all are lost and you will be lost until you find a way to leave the darkness behind. But you never know, maybe the darkest side is the happiest for you.
There will come some times where you want to be away from everyone, even from the people you love and deserve affection from. Just remember, even though one part of you will always be lost, it shouldn't stop you from living your wonderful life. Take your heavy heart with you, be the person you always wanted to be. It will help you find your happiness.
Yours Truly,
Someone who has lost all the pieces of the heart.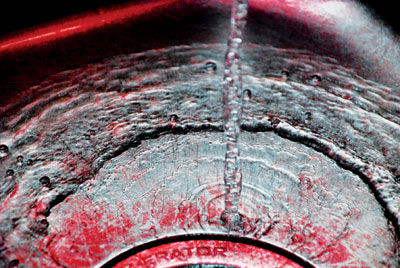 © Hannah B., Princeton, IL