Human Relations
April 27, 2012
Yaya
"I can't believe Jesse broke up with you through text!" said Dyanara. "Neither can I, it was so sudden" sobbed Yaya reading the horrible text.
It's nt wrkin out, still friends?
It's like my perfect world doesn't mean anything anymore without my boyfriend of almost 2 years. The worst part is that it was the day before the first day of senior year in El Toro High. Eyes puffy from crying myself to sleep I walk up the stairs to El Toro and head to my first block. In Mrs. Lopez's room right before the bell rings I take a seat and shortly after the bell walks in this drop dead gorgeous guy that introduces himself to the class as Abel.

Abel
Hearing the last bell I think to myself, "D*mn, I'm late." All eyes are on me as soon as I walk into the classroom, with a teacher who looks like she likes her job a little more than she should. Being stared at doesn't surprise me being the new kid in school from Riverside, California. As soon as I walk in this chick introduces herself as Mariana right after sending her friend to the back seat and inviting me to sit next to her. This girl is obviously in charge around this school. The only thing more boring than being Mrs. Lopez class is hearing Mariana talk about her self and what she did over the weekend as if everyone should care. The chicka is smokin' hot but way too easy in my book. She walks around almost as if she's floating form all the attention she gets, no guy in the school can resist her and she knows it. Major turn off. Somebody needs to bring her down a few noches if you ask me. The only thing tighter than her jeans was the tank top that exposed a shiny diamond belly ring right above her ombligo. Hearing the bell was my saving. "We should head back to my place sometime after school, I wanna show you around." Mariana said without question as if I had no choice. I had heard her say I look like a bad boy and that's the type of guys she's after. If only she knew I had the letters LB tattooed on my back that symbolizes my being jumped into the Latino Blood. We certainly aren't in Cali anymore.

Yaya
Figures Mariana would be the first to try to get at the new guy, she has a tendency to always get the cute guys to do what she says. Hurrying to get in and out of my locker I realize my hoodie is caught inside my locker and struggling to pull it out I see Abel walking down the hall with Mariana right next to him. Trying to hide my face and the fact that I can't go anywhere without freeing my sweater first is the most embarrassing feeling ever. "You umm need some help with that?" A familiar voice said. It was Abel. With one strong pull he freed my sweater without messing it up. "Th-th-thanks." "No problem", said Abel. His smile made me blush a lot more than I let on. "Come on your done doing your good deed for the day, and besides, you don't want to be seen with someone like Yaya Delgado". I turn and see Mariana looking more annoyed than ever trying to pull Abel far away from me. "See ya around", said Abel.

Abel
After helping a short chick with an oversized hoodie and jean shorts with her dark brown hair in a ponytail I head to my last class of the day. Hearing the final bell was the best feeling I've had all day. Getting home I was still pretty heated about being forced to move to Kansas with a bunch of stuck up guerros who have nothing better to do than to talk bad about Mexicans and make us all feel like crap 'cause we can't buy a new BMW every year. "How was school mijo? I heard my mom say from the kitchen as soon as I walked in. "It was ight, where's Alex?" "En su cuarto." my mom said. Alejandro is my big brother but acts like a dad. He had to grow up pretty fast so that me and Adrian, my younger brother, wouldn't have to. He had to take a beating that almost killed him to get jumped out of the LB. I was always attracted to his rebel life growing up, now I feel sorry for the guy always working and even though he was the same fighting spirit he always has, his drive is gone.

Yaya
All day all I could think about was how it would be if I was the popular girl in school and not the tomboy that was always fixing up cars and giving guys advice or help on their car but never being asked out on dates. I'm done with guys for a long time especially cocky guys who seem to only go for the easy girls like the new guy in school Abel. He's new and he's already trying to get at Mariana, that's definitely not the type of guy I want or need right now. Still I can't stop wondering what it would be like if he were interested in me.

Able
I've always been a badass when it came to school I just never showed it, didn't want anyone to think I was any less cool just because I can read or am a math wiz. Entering Mrs. Lopez class the next day I noticed her writing sentences on the bored with a bunch of numbers on the side. "Well class, to start off what is the square root of pie?" Mrs. Lopez said. "1.72587" I heard a familiar voice say. I turn to my side to see Yaya answering the question with all the confidence in the world. "I'm sorry Yaya it's.." Mrs. Lopez started to say "1.772453850905516027298167483314", I said, flashing her a cocky smile.

Yaya
"Crap!" I thought to myself. How could a guy like Abel know what the square root of pie is? He probably cheated. I hope I never have to talk to him again so that I don't see that stupid grin of his when he sees me to assure that I remember that he beat me to a question. Since the first day of class he seems to know everything. If he is that smart he sure doesn't look that part. "For the next month I will pair you up and you and your partner will have to get to know all there is to know about each other for the project we're doing on human relations, and don't think I will put you with someone you already know that would be to easy. Yaya and Abel will be our first group of partners. You need to learn what its like to be in the others shoes and what life is from in each of your eyes." After Mrs. Lopez paired everyone up it hit me. I am paired with Abel and we have to be with each other all the time. I look over at him and he gives me a little wink followed by a grin that made him even more attractive.

Abel
The chick already thinks that I'm a cocky hard headed player that lives to embarrass her, like if it's my fault I know the answer to all the questions that get thrown at me and she doesn't. The last thing I want to do is get partnered with Yaya but I guess anyone is better than Mariana. The girl is thirstier than a stray dog, and I ain't talking about water. I notice Yaya roll her eyes every time Mariana tries to talk to me, almost as if she's jealous. I shouldn't care though, right? I don't, I mean why should I? I have no feelings for that girl. Now if I can only remember that when I'm with her.

Yaya
Abel and I spent that whole week together and everyday is more amazing then the last. We are from two completely different views in the world and were raised differently but I had more in common with him than anyone else I knew. He's is a total sweet heart but he hides behind this ego a mile high. I've caught him doing beautiful things numerous times and he tries to act like it's no big deal. From watching him hold open doors for woman and teaching disabled kids how to play sports was amazing. We had the same interest sports and hobbies. The only thing we didn't have in common is where and how we grew up. I was born to a rich family who never had to worry about money. The biggest problem we had was where we were going to go on vacation that summer. Abel grew up in what he calls the ghetto. Always having to watch his single mom suffer financially and his big brother doing his best to scrape up whatever cash he could find because times were hard and finding or keeping a job was even harder. He says that's all but he's hiding something and I had to find out what it was.

Abel
I feel like a complete coward for not telling Yaya that I was jumped into the LB when I was only thirteen that I have been hooked ever since. She thinks I'm some kind of god for all the things I do. I wish I felt that way. I've always been the first to help out but people rarely ever ask me for anything since the title "Rebel" stuck to me, no one thinks I'd do anything for anyone other than myself. No one even takes the time to get to know me. The only person who sees me as more than just a pretty face is Yaya. She loves a challenge and sees the good in everyone and she's not afraid to challenge smartass cocky kids like me. I can't keep denying my feelings for the girl but she's going to hate me after I break it to her that her "superhero" is nothing more than the type of people she hates, a gang affiliated drug dealer from the barrio. She always said she was proud that even through all my struggles I didn't screw up and join a gang or sell drugs like other guys in hard times. D*mn I'm in deep.

Yaya
Everyday I feel more and more attached to Abel that I don't know what I'm going to do after the projects over. I want him to be mine but he likes easy girls like Mariana and I can't get my hopes up. It's so easy to get lost in those dark silky eyes. He holds back so much and it's hard to get through to him. But I'm determined and I will make him mine and hopefully he will come to realize that I'm the type of girl he needs.

Able
What am I thinking? I can't have a girlfriend. Even If I'm starting to feel for Yaya I know the LB won't take me gettin' distracted by some girl very good. I've seen a lot of my homeboys' girlfriends and wives get hurt just because their man is affiliated with the LB. I'll be d*mned if I let anyone hurt Yaya. I feel like I should tell her that I'm with the LB and she should stay away from me but she's sensitive and I'd hate to see tears run down her face and know that I'm the one that out them there. D*mn what a dilemma.

Yaya
I'm gonna do it. I'm going to tell Abel that everyday with him is amazing and I fall for him a little bit more each day, I don't know how he'll take it and I don't care. Who knows maybe he'll feel the same?

Abel
I get a text around 8 from Yaya telling me she needs to talk to me. For that girl I'd talk anywhere anytime. Waiting outside the steps Yaya comes up to me wearing something I never thought I'd see her wear. She has on a tight white tank top and a pink sports jacket on, tight jeans that show off more curves than I honestly thought she had. D*mn now I'm really in trouble.

Yaya
I never thought I'd wear anything like this but I had to get his attention one way or another. As soon as I get there I wrap my arms around his neck and kiss him so hard I thought we might fall over. He takes a step back and I instantly regret what I just did. He stares at me for a long time and I can't believe what I see, a long tear falls out of Abel's eye. "I-I-I- th-th-thought you wanted t-too" is all I could say. "Mi Vida, I want nothing more than to kiss you all night, but I need to tell you something and I your going to hate me after I do." Abel says

Abel
"I've been affiliated with the LB since I was thirteen years old. I have it tattooed on my back. I would have made a move on you a long time ago but I don't want you to get hurt. There are some really dangerous people after me because I didn't tell them where my best friend was hiding out after he got a green light tagged on him," I was hoping she knew a green light was when a leader of the gang want you dead. "I didn't snitch so now there's one on me for disobedience. It's not safe for you to be with me." The one thing I didn't want to see happen, happened. Tears filled Yaya's eyes and she ran for her car. I so badly wanted to follow her and hug her and tell her everything was going to be okay and I would leave the LB just so I could be with her. If only it was that easy, Alejandro got jumped out and took a beating that almost killed him. He lived and they looked for me next and threatened to kill mi mama if I didn't get jumped in. Alex doesn't know that I got jumped in to protect him so there's no turning to him for help. He would understand because he knows that our family is affiliated the minute we're born because our father was the head caller in the LB before he was shot by a rival gang, but it would kill him that I never told him and I can't have two people hate me.

Yaya
How could I have been so stupid? I got caught up in the lies of a lying gangbanger that doesn't even have the courage to tell me the night that looked me in the eyes the night I told him how proud I was that he never got involved in the gang life. I hate him and I hope I never see him again. Opening the gate to my garage I notice shadows in the dark. "Dad, is that you?" I call. No reply. Flipping on the lights I see a man tattooed from left to right with duck tape and a rope coming at me. Turning to run away a man comes up from behind me and tackles me to the floor.

Abel
I sit in my room the rest of the day and think about what a pendejo I was to lie to Yaya and keep something so big from Alex who I have no choice now to but come clean. My phone starts ringing and Yaya's name lights up my screen. "Yaya I'm so sor-" I started to say as soon as I answered. "Nice to talk to you again Garcia", a man voice says with a little chuckle. "Your novia is a little tied up right now why don't you come down and help her out?" "What are you doing with her Oso!?" "We're just having a little fun you better get her soon before the party's over and it's light out for your novia". Then he hung up.

Yaya
I can't believe it. I may not know everything that's going on but I do know that Abel lied to me and is affiliated with the LB. My head is throbbing and my throat is dry but over all I'm scared shitless. I know I'm going to die because there is no way Abel is going to risk his life to save mine. I'm just thinking about what they're going to do to me. Will they slit my throat or beat me to death? Maybe it'll be quick and they'll just shoot me or maybe they want me to suffer so they'll rape me then hit me with a bat. The stupidest things ever were popping in my head but more important was my family. I couldn't stop crying at the thought of my little brother walking into my room after my funeral and realize that I'm never coming back. I was about to scream for help when the door got kicked open.

Abel
"Sueltala pendejo!" I ordered. Walking in I realize it's two against one. I've been taught to handle my own but Oso was accompanied by Chuey who had a stupid look in his face so I could tell they had been drinking. That doesn't look good for me. Oso got bigger ever since the last time I seen him which was a few days before he got locked up. I had no time to waste so I charged at Oso knocking him to the floor and quick as lighting I gave Chuey a right hook that busted his lip and front teeth. I could see Oso trying to get up and I give him a knee to the face and a kick to the stomach. Chuey swung and got a direct him to my lower waist. His punches felt like hammers and after five of them I went down.

Yaya
I couldn't believe he came! With Chuey holding Abel back Oso got to his feet and gave Abel a kick to the stomach and three more to the face. Abel's face was oozing with blood. Oso took out a short pocket sized gun from his back pocket and pointed it at Abel. I closed my eyes so I wouldn't see Abel get shot. I heard a shot being fired and it sent tears down my eyes as well as a ring in my ear. I slowly opened my eyes to see Oso laying in a pool of blood and to my surprise Alex was standing right behind him pointing his gun to Chuey and shooting him right between the eyes with Abel still firmly attached at his hands. With perfect aim Alex had shot both Chuey and Oso killing them both. After untying me Alex took us back to his house and screamed at Abel for not telling him he was in trouble and even more furious about how if it wasn't for the fact that he had seen Abel speeding down the highway he would have never followed him and he would be dead right now as well as I.

Abel
I really didn't want to hear Alex's s*** right now. He knew I couldn't go to the hospital or they'd ask questions and we couldn't give them answers. He and Yaya cleaned me up and I swear Alex's yelling was more painful then the beating I just took. Cautious about what he might say next he went to his room leaving me alone with Yaya. I told her how sorry I was and asked her for forgiveness.

Yaya
"Are you kidding me!? Any guy who would…risk his life for mine deserves another chance." I smiled at Abel and lifted his chin toward mine, looked him straight in the eye and kissed him. With that the words "I love you" left Abel's mouth and "I love you more" left mine.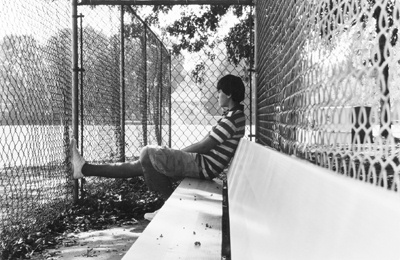 © Kyle W., Pompton Plains, NJ