Because I Love You
December 12, 2011
It was a dark, cold, windy night. We both were walking silently on that isolated road, holding hands.
I liked the warmth of his hand held tightly into mine. We had been walking from half an hour by now, returning from a party.

We knew each other from a year. We have been close friends ever since we met.
We both liked each other very much and either of us knew it but we hadn't talked about it still...

He suddenly stopped and grabbed my arm and pulled me to towards him so close that we would hear each other breathing.

I was surprised. "What happened?" I asked softly.

"What do you think?" He whispered and pulled me closer.

His placed his one arm around my waist and other on my cheek. I also placed my arms around his neck and ran my fingers though his soft dark hair.

We both were looking in each other's eyes, deeply.

No sooner, he pressed his lips onto mine, kissing me gently. I was kissing him back...Our first kiss…but not the last…

Then he pulled away gently and softy said those three magical words-"I love you."

"I love you too." I whispered softly. I felt my heart aching for him…Why? only because I knew what he would be suffering?


*~*~*~*~*~*~*~*~*~*


Now he is leaving me...going away forever. And he would never be returning, & we both know it.
"I will return." He said.
"No, you won't." I said between those inaudible sobs, with hot tears rolling down my eyes. I was finding it so hard to say those words.
"Don't you trust me?"
"I do."
"Then I promise you I'll come back to you soon."
"Why make fake promises when you won't even exist to keep them?"
"I will return, only for you."
"Do you still think that you can fight back the darkness, the pain, the shadows, the hate, and the torture and return back to me?" More tears rolled down my eyes.
He just looked into my eyes and said nothing. Gently, he brushed his lips on mine and then kissed me.
"I love you and whatever I may go through, but I'll always be with you in your heart. Always and forever. I promise." He said as a tear rolled down from his eye and he slowly drifted away in the darkness of this darkest night of my life.
"I love you too." I said as the last tear rolled down from my eye.
What he said the last time was more of a curse than a promise for me. He really cursed me or he kept his promise too, that he'll be with me always…and forever.
Till this day he kept his promise. Till this day he haunts me. His memories haunt me. And will haunt me everywhere and every time…always and forever…until I'm completely broken from inside.
And now I'm broken. I can't live more because my heart doesn't want to live like this. My heart pains and cries for you. I don't really know where you are now, may be there in heaven, because I'm coming there and I hope to meet you again for at least the pain in my heart would stop…
And I still regret something that I never told you. Where you are now, you are there only because of me. I sent you there. Whatever you suffered was because of me. Just one silly mistake of mine and you were gone. After knowing this you won't believe me and then you won't forgive me.
Okay if you forgive and forget, but I'll still regret it, even after I die, BECAUSE I LOVE YOU. ?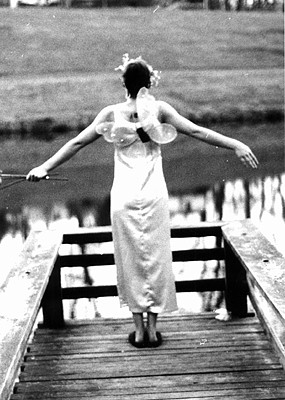 © Jennifer T., Cincinatti, OH