The Cowboy and the Princess
December 28, 2010
So vivid are the memories I have of the first day of first grade. Clumped together with a few of the other girls in my class. I thought they were my friends, that is until they started making fun of my crooked teeth and freckled face. I cried in the sand box during recess.

Then a shy little boy walked up to me.


" Hey my names Jerry? Why are you crying?"



"Because I thought I had friends, but they laughed at me. They said that my glasses make me look like an old lady, and they said my nose was big, and they thought that was funny. And they laughed because I like to watch Barney, and they said thats a baby show." It was never hard for me to pour out my troubles. I always enjoyed being the center of attention.

"Well" Jerry Said, " I don't have any friends. And I promise I won't laugh at you."

I smiled wide, hoping my newfound buddy would notice the gap where my first tooth had fallen out.
" You won't ever laugh at me? Promise? Honest? You know some people don't keep their promises. My mommy told me that."
"I know that." Jerry Replied, " My daddy promised to call me on my birthday, but he never did. And he told me that he would pick me up and take me fishing this month, but my mom told me not to count on it."
" Oh." Was my unsympathetic reply. " Well, we'll always keep promises, won't we!" I told him happily. " Lets pinky promise, you can never break a pinky promise, because if you do you have to break your pinky!"
So with that we put our pinky's together, and our friendship began.


For the next few years we were an inseparable pair. Who knew best friends could be so different? I was always imagining things, he was always telling me how some things can't happen. I was such a drama queen, he was so down to earth and practical. I was talkative and loud, he was quiet and soft spoken.

I can still smell the mud that flew between us that one day in second grade. Our first big fight. All because I wanted to play princess, and he wanted to play cowboys.

He helped me through a lot of the scrapes, in return I helped him by being his best friend, and always being there for him.


In fourth grade he got poison ivy. All the boys laughed at him because he had to wear pink lotion to school. I stood up for him. I told him not to worry about what the other kids said.

In fifth grade I told him we couldn't be friends anymore. I was a girl, he was a boy. He ignored that comment. People teased us. We didn't care.

In sixth grade I got my heart broken for the first time. I didn't want to be "just friends" with a boy anymore. But he was the only one who comforted me when I felt the worst. I told him I hated boys then I asked him to be my boy-friend. He punched me in the stomach and told me to get over it.

In 8th grade we began to drift apart. I had taught him how to overcome his shyness. He had taught me not to take mean comments to heart. I had slumber parties with girls. He practiced skateboarding with boys.

In high school we rarely saw each other. He was on the basketball team. I was in drama club. He stayed busy with school and sports. I stayed busy trying to be beautiful, crying because I wasn't. Trying to impress boys, crying when they broke my heart.

Senior year came around. I saw him in the hall. My heart was beating so hard I was sure the whole world could hear it.

"Could you sign my year book?" I asked. Avoiding eye contact. He quickly took the book, signed it and handed it back. He was staring at his feet too. Our eyes met for a billionth of a second. I walked away.

As soon as I got home I raced up to my room and hopped onto my fuzzy pink rug, flipping through the pages until I found the page where he had written:



I'll never forget you, pinky promise : )
I cried. Because that is when I realized that I loved him. And I thought I had lost him forever.

I heard he was going to a prestigious university. I knew he would be far away. I knew there was no chance of contact. I wondered why I had let him slip away. He had been my best friend. How had we gotten so far away from each other?


I fell back onto the broken leather sofa in my dreary little dorm room. I could've sworn working the night shift at Pizza Party was gonna kill me someday. I still had that mid-term paper to finish too. Who said community college was easy? I crawled to my desk and took a long sip of my favorite energy drink. Whilst opening my text book I noticed a sticky not tacked to my bulletin board, that was the way me and my overworked roommate communicated.

someone at 555 671 5867 wants you to call him back, I think he said his name was jerry.

All thoughts of homework had disappeared. I read the note seven times wondering if it were really true, finally I swallowed hard dialed the number and waited nervously while the phone rang.


" Hello? this is Jerry."




Now I'm standing here in my white flowing dress. I stare into his deep brown eyes and thank God that we'll never have to part again. He wasn't the prince charming I used to dreamed of, but he was the wonderful cowboy I would spend the rest of my life with.

"Do you promise to love, cherish, and care for ..." yada yada yada the ministers voice goes on and on, All I can hear is the love protruding from my fionsa's beautiful face.

The crowd hears "I Do," but as he leans down to kiss me I hear two very different yet even more meaningful whispered words,

"pinky promise."

And that is the way it shall be, the Cowboy and the Princess Forever and Ever.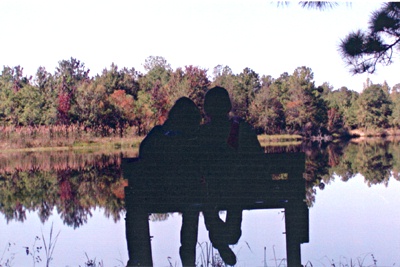 © Heather J., Slidell, LA