In My Hold
September 28, 2010
Ever been numb? Ever felt like you were drowning? Ever been so sure you were going under? Ever felt as if your world was crashing down around your feet? Ever wished that someone would come and end it all?

Ever been saved?

I have.


I came out of the office, where the adults were still talking. There was a green couch right outside the door that clashed horribly with the blue walls. I sat down on it, and it sank beneath my slight weight. I stared at the wall. I swear I could still hear them, through the wall.

'She's just a kid.'

'She's not just a kid. She's a young adult and she can take this business.'

'Can she?'

'Yes, she can. She loves this. She always has.'

'Are you sure it's not just a phase? We don't want to invest in a child, who will change her mind when the next magazine comes out, saying otherwise.'

I closed my eyes. My heart was breaking, but I felt no pain. I want to cry, but no tears came out; my eyes were desert dry.

A kid? A phase? Yes, I was 'kid', sixteen to be exact. No, this was not a phase. I wouldn't have been there in the first place, if this were just a phase. Why would I waste my time with stuffy lawyers and business people, when I could be with my friends, if this didn't mean something to me? Why couldn't they see that? Why was it so hard to comprehend that someone so young could already know what she wanted?
I felt a winter's chill come over me. It was the same chill that turns the leaves' colors. The same chill that makes mothers bundle up their kids. The same chill causes the leaves to fall from the trees, dead in a heap. I felt cold and numb.
Someone took my hand. The touch warmed me. I looked up. It was the high school guy whose mother worked in one of the offices. He sometimes worked here after school, or so I'd been told. He smiled at me, and gripped my hand, pulling me up off the couch. I stood, without a question, just looking at him.
His smile grew and he led me to the elevator. I didn't say a word, just followed. When the elevator arrived, we entered and rode it down to the ground floor. Still holding my hand, he guided me out of the building. He didn't say anything, and I didn't ask.
I wasn't really paying attention to where we were going, but next thing I knew, we were standing in Central Park. I looked around me. Everything was still green and alive. Children were with parents. Adult with their dogs walked by. Couples were holding hands.
His grip loosened. Mine tightened. And we started walking, with no course or aim. Just wandered around the paths and watched the people living.
I don't know how long we walked. I don't know where we went. I don't know what we saw. But I do know that the sun was warming me, with every step I took.
"Thank you," I whispered, after a long while.
He looked down at me. "Feeling better?"
I looked up at him. There was knowledge in his blue eyes. I realized that I must not have been the first person he saw fall apart.
I smiled. "Yeah."
He grinned back and nodded.
We continued on our walk and we started to talk.
Halfway through our conversation, I stopped. He turned to face me. I looked up at him, and asked, "What's your name, again?" I had never asked anyone for his name.
He laughed. "Jed."
"It's nice to meet you, Jed," I answered, chuckling. "My name's Holly."
We were still holding hands. I had never let go.
I realized afterwards that I had not wanted to let go of the warm and gentle hand in mine. He told me years later that neither had he.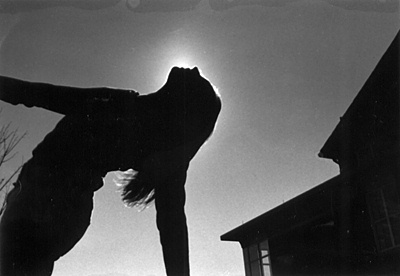 © Alexandra B., Marblehead, MA